Top Leader Amy Dunlap Joins Vasayo
November 20, 2021
By Team Business For Home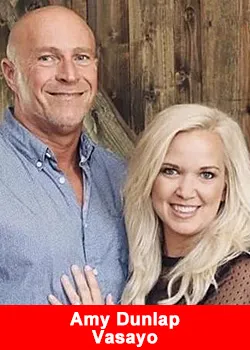 Superior Technology & Proven Leadership Seal Decision for Amy Dunlap.
When Amy Dunlap learned about Vasayo, the multi-six-figure earner was considering her next move among 10 network marketing companies. The scales tipped toward Vasayo for Amy because of Founder & Chairman Dallin A. Larsen's leadership and the company's liposomal technology.
"I had a gut feeling this was my answer," Dunlap says. "I believe Vasayo is set apart in both technology and leadership; for this reason, we've attracted many visionaries and leaders into our team. When I found Vasayo I knew my life was going to change."
Amy's hunch was right, as she has risen all the way to the rank of Diamond in less than three years with Vasayo. She did it through an unwavering work ethic fueled by her "why," self-confidence, and grit, which she says all put together is a kind of "superpower."
"I decided a long time ago that I was going to win," Dunlap says. "That means I never think about quitting. I only look for solutions."
Amy did exactly that when the global pandemic began six months into her run to Diamond, going from hosting two or three home meetings a week to building a robust community online using the suite of online technology tools offered by Vasayo.
"Because Dallin Larsen and Daniel Picou [Vasayo Founder & CEO] had already positioned our sales force with cutting edge technology and a progressive app," Dunlap reflects, "I was able to pivot to one-hundred percent online with social media and online meetings. I love how Vasayo flows so easily from face-to-face to online business."
Armed with Vasayo products that she says are the reason she gets mistaken for being her grandkids' mother, Amy says there is a grassroots build happening that has her excited for the future during a time when many are hopeful to discover the same optimism.
"I love seeing my team earn income and trips," she says. "I cherish the fact that one of the schools Vasayo supports in Africa needed money for a roof and over $12,000 was donated in a day. There is so much good happening in this world right now, and I'm grateful that Dallin said yes to his vision and it crossed my path!"
About Vasayo
Vasayo is a direct sales company based in Pleasant Grove, Utah. For passionate people who seek abundance in life, we create products that promote wellness, enhance beauty, and support daily renewal.
Through our science, we maximize the delivery of nutrients to the human body using liposomal technology and other advanced delivery systems. And through our mission to bless 1 million lives, we empower our Brand Partners to change the world. For more information, visit vasayo.com. Follow Vasayo on Facebook or Instagram.