BE's LATAM Tour Attended By Thousands Per Event
December 19, 2021
By Team Business For Home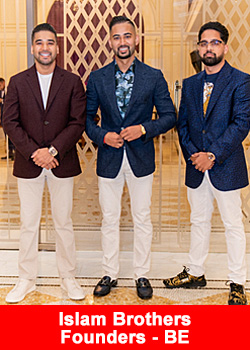 Last 27th October, BE began the Latin American leg of their BE Unstoppable World Tour in Cucuta, Colombia, where more than 1,000 people attended.
Monir Islam, Chief Visionary Officer (CVO) and co-founder, was greeted warmly by a large, excited crowd at the airport upon his arrival. Together with other BE leaders, he delivered powerful keynotes and conducted training all over the region from Mexico to Argentina.
November was filled with exciting and warm moments as BE touched down in different parts of LatAm touching hearts and inspiring lives.
Their efforts were met with mutual love. In Bogota, the event was jam-packed with over 5,000 eager participants in person, plus several hundreds online! Attendees, speakers, and trainers were not disappointed as the organizing team had prepared a phenomenal experience.
It ended on such a high note that three founders, Moyn, Monir, and Ehsaan Islam, praised the level of planning and execution that was put into the occasion.  BE concluded its LatAm tour with one final stop at Medellin, Colombia, where they imparted hope that dreams can be fulfilled.
Contributing to that message was a 2-day training spearheaded by Monir, himself. Joining him as special guest was James Smith, motivational speaker and entrepreneur. It was a day of not just learning important skills, but also knowing the value of your self-worth and time. Tears flowed, replaced by smiles and uncontainable joy.
In a single month, BE covered 6 countries, namely Mexico, Costa Rica, Colombia, Ecuador, Uruguay, and Argentina. In Colombia alone, they held events in 3 different locations, Medellin, Bogota, and Cucuta.

"Part of our core mission is to create a company of inclusivity," explained the Islam brothers. BE is currently expanding in other markets, such as Asia and Europe, spreading its message of hope for all.
What's next? The BE World Convention 2022 in Bogota. Get your tickets now before it gets sold out here.
About BE
BE is a next-generation ecosystem made up of a unique concept of 'Live & Learn' which includes e-learning and travel platforms with a comprehensive set of tools for independent business owners.
The BE ecosystem uses artificial intelligence technology, to offer a decentralized, transparent, and empowering space for people from all walks of life, regardless of their educational or financial background, to build their very own multimillion-dollar business from their smartphone.
For more information, please visit www.berules.com
Recommended Distributors BE