ByDzyne's BD Dream Vacations Brings Home 2021 Vega Award
December 15, 2021
By Team Business For Home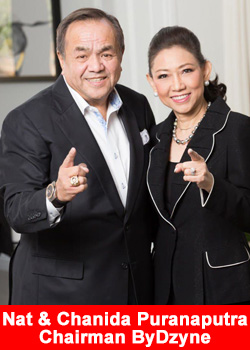 Offering elite travel on any budget, ByDzyne's one-of-a-kind travel platform BD Dream Vacations has been awarded a prestigious 2021 Centauri Vega Award in the Travel Category for its impeccable quality and outstanding service.
The Vega Digital Awards, a prominent award program that recognizes and celebrates excellence in websites, video, mobile, social, animation, marketing, and podcasts, boasted over 500 categories this year and garnered an impressive 1,200 entries.
The program is also a representative of the renowned International Awards Association (IAA) competition, which includes 15 different award programs that have received over 43,000 entries from over 102 countries since 2015.
Other recognized Vega Centauri recipients this year include AARP, State Farm Insurance Company, and Blue Cross Blue Shield.
"We are grateful to receive this Vega Award! We believe that BD Dream Vacations is a travel platform like no other, and this award is dedicated to all of BD Nation that made it possible.

We are excited to provide people the unbelievable opportunity to travel to places they have dreamed of going since they were a little child, and to do so at an affordable price.

This is just the beginning and we cannot wait to offer even more vacation spots in 2022 with hopefully even bigger savings,"
shared a visionary Chanida Puranaputra, ByDzyne's chairwoman.
An affordable choice with less hassle, big savings, and unique destinations, BD Dream Vacations is an elite travel subscription service that has revolutionized how international travel is done.
Since its launch not even six months ago, subscribers have been able to travel and explore some of the world's most exotic locations without breaking the bank—highlighted savings include an astonishing combined 30 percent off 2021 visits to Dubai and Panama.
In addition, while its competitors often include hidden restrictions to enjoy full travel benefits, ByDzyne has created the ultimate formula for worry-free travel—for a low monthly flat flee and a one-time booking fee, subscribers can enjoy numerous getaways per year, have the option to bring an additional fully-paying guest per trip, and even earn rewards that can be utilized for future travel.
To go along with its well-designed and functional website at www.bddreamvacations.com, a mobile app is also expected to launch imminently, which will include access to book trips, customize travel details, and manage travel rewards.
And traveling the globe at a low cost is what it's all about. While 2021 showcased Dubai and Panama as its premier destinations, 2022's elite offers from the travel platform may include dream trips to historical Europe, relaxing along the white sands in the Caribbean, or exploring culture and island hopping in southeast Asia.
Airport transfers in these cities are often incorporated, along with an exclusive hotel welcome reception, cultural city excursions, and sometimes an all-inclusive meal and drink package.
With what ByDzyne and BD Dream Vacations has to offer, and to do it in style with savings and luxurious travel, it might just be time to pack your bags, call your friends, and explore the world!
DISCLAIMER:
ByDzyne, Inc. does not provide any travel-related services and is solely a platform for suppliers to sell travel-related services. None of the services provided on this platform are directly supplied by ByDzyne, Inc. (such as travel bookings, hotel accommodations, tours, cruises, etc.).
ByDzyne, Inc. therefore, shall not be responsible for breach of contract or any intentional or careless actions or omissions on the part of such suppliers, which result in any loss, damage, delay, or injury to you or your travel companions or group members.
You are responsible to check all visa and COVID related travel restrictions prior to purchasing a package or booking your trip.
You shall be solely responsible, at your own expense to comply with the visa and COVID travel restrictions of each country and airline, and ByDzyne, Inc. shall not in any way be responsible for the breach or ignorance of such requirements by you or your travel companions or group members. Please read the BD Dream Vacations Terms and Conditions prior to purchasing.
BD Dream Vacations de ByDzyne se lleva a casa el premio Vega 2021
Al ofrecer viajes de élite en cualquier presupuesto, la plataforma de viajes única de ByDzyne, BD Dream Vacations, ha sido galardonada con el prestigioso premio Centauri Vega 2021 en la categoría de viajes por su impecable calidad y excelente servicio.
Los Vega Digital Awards, un destacado programa de premios que reconoce y celebra la excelencia en sitios web, videos, dispositivos móviles, redes sociales, animación, marketing y podcasts, contó con más de 500 categorías este año y obtuvo la impresionante cantidad de 1,200 entradas.
El programa también es un representante de la reconocida competencia de la Asociación Internacional de Premios (IAA), que incluye 15 programas de premios diferentes que han recibido más de 43,000 entradas de más de 102 países desde 2015.
Otros beneficiarios reconocidos de Vega Centauri este año incluyen AARP, State Farm Insurance Company y Blue Cross Blue Shield.
"¡Estamos agradecidos de recibir este Premio Vega! Creemos que BD Dream Vacations es una plataforma de viajes como ninguna otra, y este premio está dedicado a toda la BD Nation que lo hizo posible.

Nos complace brindarles a las personas la increíble oportunidad de viajar a lugares que han soñado ir desde que eran pequeños, y hacerlo a un precio asequible.

Esto es solo el comienzo y estamos ansiosos por ofrecer aún más lugares de vacaciones en 2022 con ahorros aún mayores ",
compartió una visionaria Chanida Puranaputra, presidenta de ByDzyne.
BD Dream Vacations, una opción asequible con menos complicaciones, grandes ahorros y destinos únicos, es un servicio de suscripción de viajes de élite que ha revolucionado la forma en que se realizan los viajes internacionales.
Desde su lanzamiento, ni siquiera hace seis meses, los suscriptores han podido viajar y explorar algunos de los lugares más exóticos del mundo sin romper el banco; los ahorros destacados incluyen un asombroso 30 por ciento combinado de visitas en 2021 a Dubai y Panamá.
Además, mientras que sus competidores a menudo incluyen restricciones ocultas para disfrutar de todos los beneficios de viaje, ByDzyne ha creado la fórmula definitiva para viajar sin preocupaciones: por una baja cuota mensual y una única cuota de reserva, los suscriptores pueden disfrutar de numerosas escapadas al año, con la opción de traer un huésped adicional que pague el monto total por viaje e incluso ganar recompensas que se pueden utilizar para viajes futuros.
Para acompañar su sitio web bien diseñado y funcional en www.bddreamvacations.com, también se espera el lanzamiento inminente de una aplicación móvil, que incluirá acceso para reservar viajes, personalizar los detalles del viaje y administrar las recompensas de viajes.
Y viajar por el mundo a bajo costo es de lo que se trata. Si bien 2021 mostró a Dubai y Panamá como sus principales destinos, las ofertas de élite de 2022 de la plataforma de viajes pueden incluir viajes de ensueño a la Europa histórica, relajarse a lo largo de las arenas blancas del Caribe o explorar la cultura y las islas en el sudeste asiático.
Los traslados al aeropuerto en estas ciudades a menudo se incorporan, junto con una exclusiva recepción de bienvenida en el hotel, excursiones culturales por la ciudad y, a veces, un paquete de comida y bebida con todo incluido.
Con lo que ByDzyne y BD Dream Vacations tienen para ofrecer, y para hacerlo con estilo con ahorros y viajes de lujo, ¡podría ser el momento de hacer las maletas, llamar a sus amigos y explorar el mundo!
DESCARGO DE RESPONSABILIDAD:
ByDzyne, Inc. no proporciona ningún servicio relacionado con viajes y es únicamente una plataforma para que los proveedores vendan servicios relacionados con viajes.
Ninguno de los servicios proporcionados en esta plataforma es proporcionados directamente por ByDzyne, Inc. (como reservas de viajes, alojamiento en hoteles, excursiones, cruceros, etc.).
Por lo tanto, ByDzyne, Inc. no será responsable por el incumplimiento de contrato o cualquier acción u omisión intencional o descuidada por parte de dichos proveedores, que resulten en pérdidas, daños, retrasos o lesiones para usted o sus compañeros de viaje o miembros del grupo.
Usted es responsable de verificar todas las restricciones de viaje relacionadas con visas y COVID antes de comprar un paquete o reservar su viaje.
Usted será el único responsable, a su cargo, de cumplir con la visa y las restricciones de viaje de COVID de cada país y aerolínea, y ByDzyne, Inc. no será responsable de ninguna manera por el incumplimiento o ignorancia de dichos requisitos por parte de usted o sus compañeros de viaje o miembros del grupo. Lea los Términos y condiciones de BD Dream Vacations antes de comprar.