Carlos Pullupaxi & Kathy Gavilanez From Ecuador Achieve 2-Star President Rank At ByDzyne
December 22, 2021
By Team Business For Home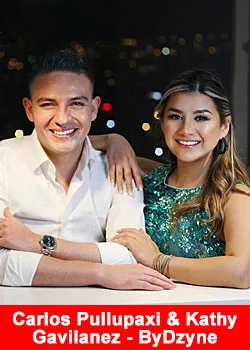 ByDzyne is concluding the year welcoming in yet another Latin American powerhouse couple, this time in the form of new 2-Star Presidents Carlos Pullupaxi and Kathy Gavilanez from Ecuador.
*A 2-Star President generates over $400,000 USD of sales revenue in 15 days or less.
The couple, who are in their late 20s and hail from the Ecuadorian capital city of Quito, have over 15 combined years of network marketing experience. They are known locally for their diligence, their love for travel and inspiring others, vision casting, and sharing on the importance of "building a life worth remembering."
The enthusing life they live now, according to the leaders, begins and ends with their choice in investing in their future with ByDzyne.
"We chose ByDzyne because of its concept, how the company captures trends, and the exemplary leadership from the corporate team.

In our many years in the industry, we have never had the opportunity to collaborate with an executive team with as much experience as we do here and it gives us tremendous certainty and confidence as entrepreneurs.

So, in a world that does not wait and moves so fast, you definitely have to make quick decisions and ours was quite simply the best one to join this great company,"
shared Pullupaxi and Gavilanez.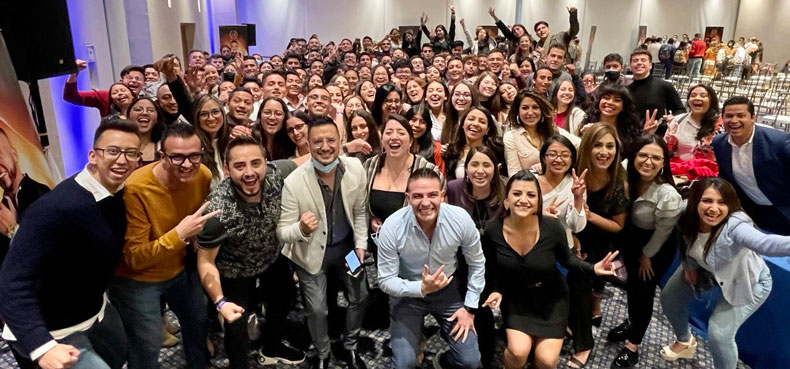 That decision has allowed the couple to live out their passions—bringing hope and opportunity to everyone they encounter and getting to travel the world together. In just the past year alone, they have motivated others in Los Angeles, gone sky diving over the Arabian deserts in Dubai, and vacationed in Tulum, Mexico. Regarding their recent accomplishment, the couple has gratitude for so many.
"We thank God first because without Him nothing would be possible. We also recognize our executive team for the great vehicle they have created, our mentors Gustavo Salinas and Daniela Alvarez who have been our guide, support, and inspiration since we started in this industry, and finally to our team who have trusted us and have allowed us to enter their lives with this great opportunity.

All of your support has been the biggest blessing, and it drives us to continue working hard every day until each person on our team fulfills their dreams and goals,"
conveyed the grateful couple.
ByDzyne's executive team is overjoyed by the progress of the Ecuadorian leaders and believes Pullupaxi and Gavilanez have what it takes to get to the next level.
"We congratulate Carlos and Kathy on their remarkable achievement in hitting the 2-Star President rank.

We know they have gone through a lot of challenges and trials in getting here, and we are so impressed by their resilience and determination to change their lives and impact the lives of others. With that type of attitude, we can see them doing even bigger things in 2022. We believe in you both and cannot wait to see your dreams come true,"
shared Chad and Nattida Chong, ByDzyne's cofounders.
Dreaming has already begun for ByDzyne's newest 2-Star Presidents, and it begins with their desire to bless others.
"Our goal is to help 20 people in our organization to generate over $10,000 per month, positively impact the lives of 5000 people in our team, and reach the coveted Crown rank,"
expressed the couple.
Those goals may soon be realized. For a couple rooted in belief and hard work combined with the ascendency of ByDzyne in the South American market, nothing seems impossible for ByDzyne's Carlos Pullupaxi and Kathy Gavilanez.
*ByDzyne makes ZERO income claims. It takes hard work and dedication to make a substantial income. All results may vary. From July 2020 to June 2021, the typical annual income earned by a ByDzyne distributor was $540.05. For full income disclosure please visit www.bydzyne.com/IDS.