Video How To Develop A Rock Solid MLM Business – By Stefania Lo Gatto
December 19, 2021
By Team Business For Home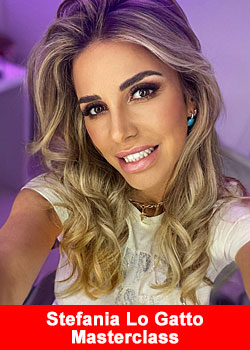 For the Business For Home Masterclass event 2021 Stefania Lo Gatto presented in a 20 minutes video:
"How To Level Up in Network Marketing".
Subtitles are available in:
German

Dutch

French

Arabic

Danish

Spanish

Russian

Polish

Filipino

Portugese

Italian

Other languages on request (mail to our: Support Desk.)
Stefania Lo Gatto, from Italy,  resides in Dubai, and is together with her husband, in the top 10 of the Business For Home top earner ranks.
Stefania a professional networker, mother,  but first of all she is a woman who wakes up with a smile. Stefania says:
"My job is to help people believe in their dreams and conquer them one by one: when they hold them in their hands, their joy is also mine. After all, nothing is difficult if you know how to do it , not even when it comes to snatching its most distant star from the sky."
Network marketing was a new challenge for me, the first of my life faced alone to achieve economic independence, but it was the spark to start living again as I always dreamed of, for me and my children.
Network marketing is independence and freedom to organize your time: at work, with friends, with family… and with yourself.
Network marketing is friendship, empathy and sharing successes , because I am always by the side of those who believe in it and work hard.
Network marketing is the closest star in your sky, if you just believe it.