Katarina Zibritovska Achieves Presidential Diamond Award At BE
December 15, 2021
By Team Business For Home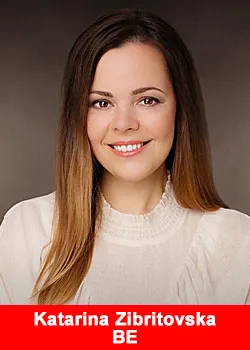 BE is capping off 2021 strong with another Presidential Diamond hit achieved by Katarina Zibritovska.
This massive achievement is the culmination of a lot of hard work that began in her childhood, the recognition only validated the determination that fueled her for many years.
Katarina lived happily in Slovakia with both of her parents until they decided to get divorced. Then their financial problems ensued.
Katarina never accepted her circumstances as they were, fueling her drive to work hard and succeed in life.
She went on to earn a degree in Mass Media Communication, learn several languages, and also take up art classes. It seemed she was on the right path and well on her way to achieving her dreams.
She quickly learned, however, that employment wouldn't give her the freedom she craved for. Yet she didn't see any alternative, neither knowing anything about business or having money to start one.
Only when someone took the time to explain network marketing to her did she feel hope to have the life she longed for. When she learned about BE, she immediately took charge of her life and grabbed the opportunity. She was not disappointed.
After making huge strides as a BE Independent Brand Influencer, Katarina's life and her family's changed completely. She was able to quit her job, move back to her home country of Slovakia from working in Mexico, and spend more time with her family.
She's now living the life she always dreamed of with a beautiful home with a big garden of her own. Katarina has the freedom to travel whenever and wherever she wants, has enough to give back to her family, and still has much left over for her and her future.
Beyond the material possessions and the travels, she gained what she didn't expect: purpose.
"With BE I found meaningful work. The possibility to impact other people's lives, show them, and help them how to turn their dreams into reality like I did, became the most satisfying mission ever,"
Katarina shared.
That purpose burned a fiery passion in her, pushing her to do more and resulting in the much-deserved recognition as this year's Presidential Diamond. When asked how she did it, she explained,
"This achievement is a result of consistent hard work of many people, especially from the team.

It wouldn't be possible to achieve it without correct guidance from our leaders and the founders of the company Monir, Moyn, and Ehsaan Islam,"
she went on. "
Certainly, having the highly efficient products and most aggressive compensation plan seen in the market accelerated this success a lot."
On the leaders, Katarina added,
"I never met business owners that are so inspiring, supportive, hardworking, congruent, and caring for their people. For me, the Islam Brothers are the real reason why this company is growing so fast."
To those who are considering joining the company or have just begun, she gives sage advice, "Invest into correct education, because if you empty your pockets to fill your mind, very soon your mind will fill your pockets. Find a mentor with the same values. Be deeply grateful for each day, and focus on helping others more than your numbers."
To concisely explain in a single sentence what the company is all about, Zibritovska summarizes it well into one short sentence,
"Our mission in BE is to become better for better tomorrow."
About BE
BE is a next-generation ecosystem made up of a unique concept of 'Live & Learn' which includes e-learning and travel platforms with a comprehensive set of tools for independent business owners.
The BE ecosystem uses artificial intelligence technology, to offer a decentralized, transparent, and empowering space for people from all walks of life, regardless of their educational or financial background, to build their very own multimillion-dollar business from their smartphone.
For more information, please visit www.berules.com
Recommended Distributors BE