Nancy Ohanian And Enrique Olazabal Achieve Pink Diamond Rank At Amplifei
December 1, 2021
By Team Business For Home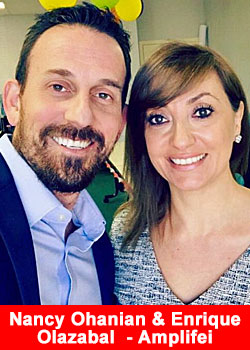 Nancy and Enrique joined Amplifei™ in January of this year and have worked tirelessly to build within the community.
This is an epic achievement in such a short time and can be attributed to their character of leadership, and the trust their teams put in them.
"Laura and I knew that Enrique and Nancy tailor suited to help lead within Amplifei™ in our very first reconnecting call,"
says Robert Oblon, Founder of Amplifei™.
"They were, like us, ready to build a newer, better version of this distribution model and wanted to jump right into the deep end, which they did.

They've played a significant role in helping us all shape what we've become, and what we're becoming."
Pink Diamond means that a very large team of people has been assembled, impacting hundreds of thousands in volume from customers, whose lives are being impacted in incredibly positive ways from the company's powerful product line.
"We continue to be amazed at the quality of leadership demonstrated by Enrique and Nancy,"
shares Laura Harte, President of AmpLIFEi.
"Nancy is a powerful female leader who has shown no fear in stepping into the much needed role in Direct Selling, female leaders and trainers. We are very excited about what's coming next from these two!"
AmpLIFEi™ is rapidly expanding its HAPInss Brands™ line of products with exclusive technologies to compliment its already existing unique portfolio.
AmpLIFEi™ continues to demonstrate its ability to grow through its marketing division in both the US and Canadian markets and this is clearly attracting the attention of well-established brand leaders.
About AmpLIFEi™
Headquartered in Greenwood,Indiana, Amplifei™ and HAPInss Brands was founded in 2020 by Robert Oblon, who serves as Founder and Chief Executive Officer of both companies. Amplifei International is a health and wellness lifestyle company with exclusive marketing rights for Hapinss Brand's products serving freelance entrepreneurs.
These two Companies combined give customers and its freelance entrepreneurs more options to improve their lives in a more complete way. For more information about AMPlifei, visit www.AmpLIFEi.com.
Recommended Distributors Amplifei