Network Marketing Newcomer Lara Giang Dang Climbs The Ranks At QuiAri
December 29, 2021
By Team Business For Home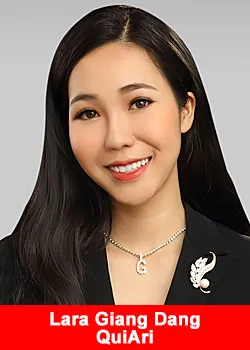 Lara Giang Dang from Vietnam is only 22 years old. Like many business professionals her age, she wasn't interested in working an unfulfilling 9-to-5 office job for the next 40 years, hoping that one day she would rise to the top.
A friend introduced her to QuiAri, and with no prior Direct Sales Industry experience, Lara is now a Champion Promoter – one of QuiAri's highest ranks.
"Before joining QuiAri, I didn't know what my purpose was in life. A friend introduced me to QuiAri, and suddenly I could see the bigger picture.

My mission is help people change their lives and achieve their dreams. In return, I'm changing my own life, achieving my own dreams, and making a difference in this world.

My success at QuiAri has happened quickly because I'm passionate about the company, the products, and the people that I inspire,"
stated Lara Giang Dang.
 Lara said she got started by introducing her family to QuiAri. They loved the positive energy of the company, the products, and the potential to help extended family and friends. Almost immediately, Lara had formed a small team focused on success.
"I'm so grateful to have found QuiAri. My team has grown from my family to a large global network of Promoters in a very short period.

QuiAri products are available in over 200 countries worldwide, which has provided me with unlimited potential for growth.

I really enjoy helping people like myself, the younger generation looking to pursue their dream lifestyle quickly without taking on debt or the risks associated with starting their own business. QuiAri is the new #1."  
For people new to the industry and seasoned veterans, QuiAri provides many compelling reasons to join the company:
Revolutionary products featuring the new #1 superfruit, the Maqui Berry
Proprietary super-concentrated Maqui extract, MaquiX®
Commissions paid in 5 minutes
Industry's first Real-Time Free Tour Marketing System
Distribution in over 200 countries worldwide
One of the highest-paying Compensation Plans
Executive Team with over 150+ years of combined MLM experience
And more
Although Lara is new to the MLM industry, she has taken vitamins and nutritional products all of her life. She noticed a distinct difference in taste and effectiveness.
"With other products I've taken, you don't feel the difference right away. It takes 6 months to a year for the effects to kick in. When I started taking QuiAri, I started feeling better immediately. I felt healthier and I was full of energy – like I could conquer the world,"
stated Lara Giang Dang.
QuiAri Founder and CEO, Bob Reina developed QuiAri Shake and QuiAri Energy with the help of the #1 Maqui Berry Scientist in the world, Dr. Juan Hancke. Bob personally experienced the benefits of QuiAri Shake and Energy. He lost over 28 pounds and now has an easier time keeping up with his young children.
"I started QuiAri to help people look and feel better. I never expected how much it would change my own life. I felt like a new person, and my wife and children noticed a difference in my mood and energy levels.

Our company motto is "Try. Love. Share." People that try the products love them and want to share them with others.

Promoters like Lara, that have very little Direct Sales experience are finding success at QuiAri simply because they are excited, passionate, and want to share these breakthrough products that make them feel fantastic. One success story leads to another success story – that is how we have grown so quickly,"
stated QuiAri Founder and CEO, Bob Reina.
Lara has a plan for her next 5 years at QuiAri. She aspires to be the top Promoter in the company. She even nicknamed her team the "Purple Diamond Team" to motivate them to achieve their goal.
"I'm grateful for all that Bob Reina has given us – the products, the opportunity, and the camaraderie of being part of the QuiAri global family.

QuiAri is already one of the most successful health and wellness companies in a very short time. I can see us becoming #1 in the world in the next 5 years.

I have a lot of young people on my team, and they all believe that QuiAri is the future of this industry. I agree with them. With #1 products, the #1 opportunity, and #1 leadership, we will only keep rising higher and higher,"
said Lara Giang Dang.
These statements have not been evaluated by the Food and Drug Administration. These products are not intended to diagnose, treat, cure, or prevent any disease.
About QuiAri
QuiAri is the #1 health and weight loss movement in the world today. Featuring exclusive, breakthrough products (QuiAri Shake and QuiAri Energy) featuring the world's new #1 superfruit, the Maqui berry, people everywhere are losing weight, boosting their energy levels, and improving their health.
What started as an idea has now become a worldwide phenomenon, gaining a passionate following in over 200 countries. But that's not all! We boast an exciting opportunity to promote QuiAri products and earn commissions within 5 minutes after each sale through industry-first, state-of-the-art payment technology.
Combining unrivaled products with the fastest payout, the fastest cycling binary, and one of the highest-paying compensation plans in the industry, there's no doubt QuiAri is helping people live healthier, happier lives. To learn more, please visit quiari.com.
Income Disclosure Statement
Please note the QuiAri business opportunity offers unlimited income potential. However, QuiAri makes no guarantee of financial success. Success with QuiAri results only from successful sales efforts, which require hard work, diligence, skill, persistence, competence, and leadership. Your income will depend upon how well you exercise these qualities.
Recommended Distributors QuiAri