Video How To Overcome Really Big Problems – By Amira Habib & Paulo Tuynman
December 24, 2021
By Team Business For Home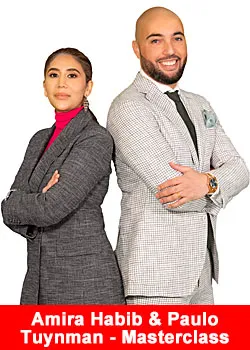 15,000 Network Marketing Professionals from around the world came together in 2021 for an immersive generic training experience, a Masterclass:
35+ International Top Speakers, Coaches, Mentors and Rising Stars presented their trainings.
Amira Habib and Paulo Tuynman presented for a worldwide audience from 100+ countries in a 20 minutes video:
"How To Overcome Really Big Problems in Your Network Marketing Business".
Paulo Tuynman, 33 years young, from The Netherlands is known for his ability to build some of the largest organisations in the industry.
Having just 10 years of experience in Network Marketing he has already generated over $180 million in global sales.
By profession Paulo was a Corporal 1st class in the Royal Dutch Army, meaning he had climbed the ladder and used to lead a group of soldiers. He entered the military when he was 18 years old and served in the Army for 7 years.
He equates his number one reason for enlisting in the Army as his inner desire of helping people. After serving twice in Afghanistan he has been individually recognized for the impact he made through his work during the mission.
Subtitles are available in:
German

Dutch

French

Arabic

Danish

Spanish

Russian

Chinese

Portugese

Italian

Other languages on request (mail to our: Support Desk.)
His vision was much bigger than the army and in search of a better way he came across network marketing. When he looked at this industry for the first time it made him realize that network marketing had everything he was searching for. Being able to help people, impact their lives with the ability to leave a legacy.
With his Military mindset he started producing results from day one and breaking through in his first year becoming a six- figure earner.