4Life Announces Brian Gill As New Chief Marketing Officer
January 7, 2022
By Team Business For Home International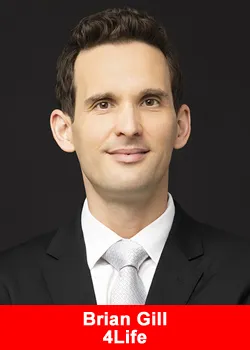 4Life President and CEO Danny Lee recently announced Brian Gill as the company's new Chief Marketing Officer.
Gill has 22 years of experience in marketing and team development. Prior to this promotion, he was the Senior Vice President of Marketing for 4Life.
As Chief Marketing Officer, Brian will support the company's strategic objectives, discover new ways to innovate with top-quality tools, and create an exceptional brand experience for Affiliates and Preferred Customers.
Gill:
"The privilege to continue marketing 4Life and its core values of Science, Success, Service, and Satisfaction as Chief Marketing Officer?

Yes, please, and thank you! What an honor! To me, marketing is effectively and accurately representing your product or service to others in a way that pulls them into wanting to be a part of it all.

My goal is to have many more people continue to find the healthful products, beneficial income opportunity, and chance to give back through meaningful service that 4Life provides."

Prior to joining 4Life, Gill served as Vice President of Marketing for a startup direct sales company, where he was instrumental in building the brand from scratch and launching six products in the first year.
Prior to that, he led the marketing efforts, nationally and internationally, for a fast-growing e-commerce party planning company, implementing marketing communication and promotional campaigns that engaged customers and garnered significant revenue for the company.
Gill holds a bachelor's degree in International Law and Diplomacy from Brigham Young University, a master's degree from Utah State University, professional certification in Integrated Marketing Communication from the University of Utah, and a dual certification in Digital Marketing from the Digital Marketing Institute (DMI) and the American Marketing Association (AMA).
His personal interests include health and nutrition, squash, racquetball, live theater and music, reading, writing, hiking, and spending time with his family.
President and CEO Danny Lee:
"Upon arriving at 4Life in February of 2018, Brian put himself to work.

Over the past four years, he's developed a fantastic team and spear-headed a long list of successful marketing initiatives. I look forward to his continued contributions."
4Life, the Immune System Company™, and the first to bring 4Life Transfer Factor® research to market, has offices in 25 markets to serve the company's worldwide customers.
About 4Life
In 1998, 4Life Founders David and Bianca Lisonbee launched the company's flagship immune system support product, 4Life Transfer Factor. As the first network marketing company to do so, 4Life's leading group of doctors, scientists, and researchers continue to advance immune system science with innovations in product formulation, production standards, delivery methods, and more. Today, people in more than 50 countries enjoy the immune system support of 4Life products.