Network Marketing Industry Veteran, Melanie Barnett Joins QuiAri
January 21, 2022
By Nicole Dunkley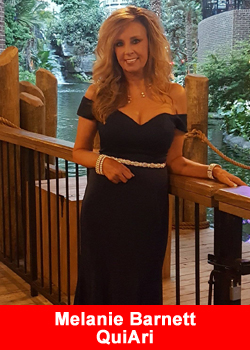 QuiAri Promoter Melanie Barnett absolutely loves the life she has created for herself in Mississippi. She's originally from the tiny town of New Hebron, but lives in the slightly larger city of Brandon, Mississippi, where she has been involved in Network Marketing since the 1990's. 
"There is nothing that beats the charm of living in a small town. I have a lot of family and friends here, and thanks to Network Marketing, I get to spend a lot of time with them.

I started out 2 decades ago in an MLM that sold gold coins and jewelry. I'm very ambitious, so I did very well for myself. However, I leverage my success to give back to my community.

Green Diamond QuiAri Promoter, Sabra McCraw, introduced me to QuiAri and opened my eyes to the potential of giving back globally instead of just locally,"
stated Melanie Barnett.
Since joining QuiAri, Melanie has been helping others earn extra income, live healthier lifestyles, and push themselves to accomplish goals they never dreamed were possible. 
"QuiAri distributes to over 200 countries worldwide, so this is a massive opportunity to challenge myself and see just how far I can take my business.

I became successful in this industry when I realized the power in numbers and leveraging people to help me reach my goals. As a member of the QuiAri family, I was instantly connected to some of the most successful leaders in the industry – that includes QuiAri's Founder and CEO, Bob Reina.

He does not believe in passive ownership. Bob rolls up his sleeves and helps out Promoters in the field any way he can,"
said Melanie Barnett.
Promoters that know Bob Reina or have learned from him on his weekly live broadcasts enjoy his honest, down-to-Earth attitude towards achieving success. He has provided Promoters with products and an opportunity that you just can't find at any other company.
#1 Fastest-Paying Compensation Plan (Same Day Pay – commissions paid in 5 minutes worldwide)

Products featuring the #1 superfruit, the Maqui Berry and proprietary Maqui Berry extract, MaquiX®

One of the highest-paying Compensation Plans 

World's First Real-Time Free Tour Marketing System

World-Class Marketing and Support

Unbeatable resources

Best-tasting products 
When Melanie was first introduced to QuiAri, she had heard that the chocolate and vanilla shakes were good, but had her doubts.
"I didn't think it was possible for a shake to be both nutritious and delicious. In my experience, it was either one or the other. QuiAri was the first to figure it out.

Bob taste-tested over 111 different shakes just to be sure QuiAri was #1 in flavor.

I also loved the Energy tablet just as much as the Shake. It's 4 to 5 hours of natural energy and no jitters. Other Energy products used to make me feel nauseated. I'm excited because now there is a product that works for me,"
said Melanie Barnett.
The extra boost of energy has helped Melanie be more creative in the kitchen. She has used the Shake mix to make healthy hot chocolate on cold winter nights. On warmer, summer nights the vanilla shake mix is blended with fresh strawberries and low-fat almond milk for delicious strawberry ice cream.
"I would not promote these products if I did not truly love them. I've already climbed to the rank of Super Star through sharing samples and teaching others how to duplicate my success.

As my dreams start to come true, my family and friends are noticing, and they want to know more about it. My dream is to be financially free, meaning never being owned by a job or debt.

I'm only a few ranks away from making that happen. Life is too short to not enjoy it,"
said Melanie Barnett.
Last month, (December 2021) QuiAri shattered personal growth records. They are well-positioned for more success this year and beyond. Founder and CEO, Bob Reina is inspiring and motivating his team to Try. Love. Share. 
"We're going to keep helping people around the world improve their physical and financial health. These products are the first of their kind – no other has the MaquiX® extract, which boosts the natural antioxidant power of Maqui up to 10 times.

Try. Love. Share. has become our global mantra for 2022, and it's not just a marketing line. This is how the company has grown so quickly in just 2 years.

People that try the products fall in love with the results and want to share them with others. We're only at the very beginning of our business success, so the next few years are going to be the most exciting,"
stated Founder and CEO, Bob Reina.
As Melanie's business continues to grow, she plans to increase the scope of her philanthropic efforts.
"I've already been blessed with the opportunity to help family, friends, and even complete strangers get back on their feet. When I hit QuiAri's top rank of Purple Diamond and have the resources, I plan to help people around the world.

Instead of donating food to a local food bank, I would choose to build several food banks from the ground up. One day, soon…right?"
said QuiAri Promoter Melanie Barnett.        
To learn more about QuiAri, their products, and the opportunity to become a Promoter, visit https://quiari.com/en, or follow them on social media @QuiAriOfficial.
About QuiAri
QuiAri is the #1 health and weight loss movement in the world today. Featuring exclusive, breakthrough products (QuiAri Shake and QuiAri Energy) featuring the world's new #1 superfruit, the Maqui berry, people everywhere are losing weight, boosting their energy levels, and improving their health. What started as an idea has now become a worldwide phenomenon, gaining a passionate following in over 200 countries. But that's not all! We boast an exciting opportunity to promote QuiAri products and earn commissions within 5 minutes after each sale through industry-first, state-of-the-art payment technology. Combining unrivaled products with the fastest payout, the fastest cycling binary, and one of the highest-paying compensation plans in the industry, there's no doubt QuiAri is helping people live healthier, happier lives. To learn more, please visit quiari.com.
Income Disclosure Statement
 Please note the QuiAri business opportunity offers unlimited income potential. However, QuiAri makes no guarantee of financial success. Success with QuiAri results only from successful sales efforts, which require hard work, diligence, skill, persistence, competence, and leadership. Your income will depend upon how well you exercise these qualities.
These statements have not been evaluated by the Food and Drug Administration. These products are not intended to diagnose, treat, cure, or prevent any disease.
Recommended Distributors QuiAri