Velovita Launches Brand-New Product – the First Of Its Kind
January 5, 2022
By Nicole Dunkley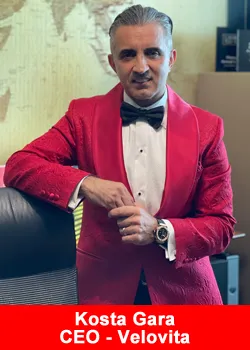 First there was brān®, the original bio-hacking formula for a natural energy boost and optimal brain performance. Then came zlēm®, a nighttime formula for quality sound sleep and weight management. uüth™ was next in line, a time-reversing gelée to help you live, look, and feel your vibrant best.
Velovita, the global leader in the health & wellness/ bio-hacking space already had a successful trio of bio-hacking consumables; each with their own benefits such as: better health, sleep, performance & energy, and even better skin!
Customers enjoy free shipping in every market, and festive flavors of their favorite biohacking solution. It's safe to say that Velovita knows a thing or two about product launches.
Even so, Velovita wanted to bring out another showstopper product – the first of its kind! After a very successful first full year in business, Velovita did just that on their January 3rd Founder's update zoom.
Velovita introduces plôs™, pronounced pluhs, a new line of beverage companions designed for adding to your favorite beverage of choice for a little something extra.
More specifically, plôs™ THERMO, a non-dairy creamer for adding to your home-brewed coffee or favorite barista creation to help with your fitness and body composition goals, effectively making it the world's FIRST functional creamer.
Rather than a disappointing instant coffee that won't meet your flavor standards, Thermo can be added directly to your favorite quality coffee to impact your daily body composition and fitness goals.
Plus, avoiding dairy and extra calories from sugar-rich sweeteners and creamers keeps your coffee clean without sacrificing the rich, smooth consistency and taste.
plôs™ THERMO may help intensify weight loss efforts. This product was developed for those looking for some help to curb cravings, boost the metabolism, and eliminate calorie-rich dairy creamers. plôs™ THERMO is keto friendly and brings the heat with every cup while helping to control daily caloric intake.
Velovita Co-Founder & President, Jeff Mack shared, "plôs™ THERMO is a game changer.
"We're so excited about the feedback we've received from those who used it, evaluated it, and loved the outcome."

When we launch something new, our due diligence is done at every level from the formula development to the taste, packaging, results, and everything between.

Due to its simple and effective nature, we know our Customers and Members will love adding plôs™ THERMO to their coffee, and they'll love the results even more!"
plôs™ THERMO is available this January.
About VELOVITA
Founded on 90+ years of operational and field success, VELOVITA is rapidly becoming a global leader of innovation in the field of biohacking, social selling, community expansion and support for the new world entrepreneur. Their mission is to provide an ecosystem of inspiration, education, and life enrichment. VELOVITA has a singular focus on the individual to increase their daily performance both mentally and physically.
For more information on VELOVITA, please visit Velovita.com or Velovita's Facebook page. You may also contact us at [email protected]. To join the new movement, click here for the Velovita Member Rewards. We know you'll #LOVIT!
Recommended Distributors Velovita