Arctic Nutrition Sales 2021 Up 124%
February 9, 2022
By Team Business For Home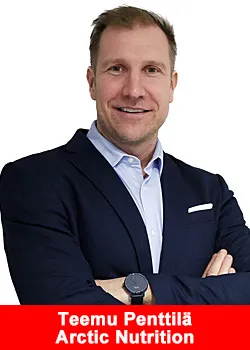 Arctic Nutrition from Finland announced its' biggest growth in history in 2021.
Teemu Penttilä, CEO stated:
"The growth numbers show us how hard work pays off and there is no reason why they wouldn't grow even bigger in the future.

We are going to keep working hard and we constantly have new innovations in development". 
The company believes that the growth was due to a combination of three factors:
Firstly the company representatives took a more professional and modern approach to their daily work; Covid-19 meant that the online tools supporting representatives' training and fieldwork were further developed and greatly improved.
With that, representatives became more efficient and the number of attendees in training grew quickly, as people were able to access events from across Europe.
Another factor was that the importance of personal health and well-being was widely reported across different media sources.
Arctic Nutrition provides a nutrition dense, all natural product line that is full of Arctic natures' ingredients that supports health and well-being. The interest towards the product line grew more and more with the media attention being targeted at health.
Last but not least was the launch of the natural 'Flow' energy drink. The instant energy boost and fat loss capabilities of the product made it a huge hit.
Arctic Nutrition's goal is to reach the List of Top 100 MLM Companies in the World and to be the first company from Finland to achieve that.
About Arctic Nutrition
The company got started when the founder, Teemu Penttilä, CEO, learnt through the illness of his loved one how important it is to understand the functioning of human cells and how crucial their well-being is for living a long and happy life.
During the whole process he collaborated with scientists from Finnish universities.They helped and encouraged him to start making a difference. Operating in Finland, Germany, Estonia and Sweden the company is consistently looking for new partners to expand new market areas. For more information please visit arcticnutrition.com/en