ByDzyne's Sergio Montaño Botero from Colombia Achieves 1-Star President
February 28, 2022
By Nicole Dunkley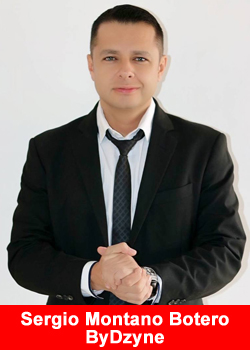 As Latin America continues to cement its place as one of the industry's highest-grossing markets, ByDzyne's executive team is elated to announce Sergio Montaño Botero from Colombia as its latest star, with his recent achievement of becoming a 1-Star President.
* A President generates over $200,000 in sales revenue during a half-a-month span. 
With over 15 years of network marketing experience, the 45-year-old leader from Cali, Colombia, is no stranger to premier accolades. The South American networker has previously held the highest positions in prior organizations, including being recognized as a "Trainer of the Year," "Top Income Earner," and "Latin Leader of the Year." 
That wealth of experience and wisdom in the industry led him straight to ByDzyne almost two years ago, and according to Sergio, it has been the perfect fit.  
"ByDzyne combines everything people are looking for in a business. It brings superior physical products that provide great stability and digital products that allow for rapid expansion and speed in the online world.

I see in ByDzyne the opportunity to work, for the first time, with a corporate team that knows the field and knows the needs that we, as networkers, experience daily,"
shared ByDzyne's latest President. 
While the Colombian leader, who also impressively carries extensive experience as a physician and surgeon, is proud of his recent rank advancement, he is also quick to acknowledge his team as being the heartbeat behind this triumph. 
"Significant rank advancements are never made by one person; the results are often from endless efforts of a team that is looking out for each other and working together.

This specific achievement has been about diligence, dedication, persistence, focus, and having a team of hard-working people who possess the right values,"
expressed a grateful Sergio.
According to Chad Chong, ByDzyne's cofounder, Sergio is one of those special people that just oozes those unique qualities. 
"BD Nation congratulates Sergio Montaño Botero for becoming our latest 1-Star President! We know that you have put in the effort, dedication, and attitude to achieve this new ranking, and we celebrate you today.

We appreciate your determination to be the best and we are looking forward to all you will do here at ByDzyne in 2022 and beyond,"
declared Chong.   
Sergio can't wait. According to the leader, ByDzyne will take network marketing to the next level by becoming the leading company in which many people who have previously said "no" to the industry, will actually find their home and future at ByDzyne and recognize its tremendous value in opportunity and financial freedom.  
*ByDzyne makes ZERO income claims. It takes hard work and dedication to make a substantial income. All results may vary. From July 2020 to June 2021, the typical annual income earned by a ByDzyne distributor is $540.05 For full income disclosure please visit www.bydzyne.com/IDS. For the full income disclosure please visit www.ByDzyne.com
Recommended Distributors ByDzyne