George Van Wijk Celebrates Its 3-year Anniversary As Crowd1 Ambassador
February 8, 2022
By Team Business For Home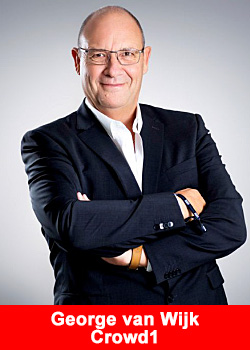 Crowd1, the world's leading influencer marketing company, recently reached an impressive milestone: its third anniversary. George van Wijk from the Netherlands, is a leader who's been with the company almost from the start and who, through hard work, determination, and passion, was the first to attain the rank of Ambassador.
George joined Crowd1 in early 2019, and was immediately inspired by the visionary thinking of company founder, Jonas Eric Werner. From the first moment, George was fully committed.
After 6 months of working long hours establishing his network, George and his wife took their work on the road. From Africa to the Philippines, South America to Europe they inspired thousands – growing his network with events and presentations, and taking an interest in others' lives.
"Then Covid-19 hit, so I jumped behind my computer holding online calls and helping others become successful too",
says George.
George believes Crowd1 is unique, since it's set up to improve the lives of millions of people – not only a select few. He feels that he's part of a big family; a company that, if you work hard enough and are dedicated, helps you leave a legacy.
The business model is very clear and simple, and the compensation plan is very generous – but George emphasises that you'll only be successful if you love what you do:
"With Crowd1 you can work from wherever you are, with the only tool required being a smartphone. The only limits are the ones you place on yourself. If you're passionate, you can make it happen".
Speaking of passion: What makes George excited to get up in the morning? First and foremost, his family.
His wife is always by his side; they're on this journey together. He is, of course, passionate about Crowd1, knowing it has changed many lives and finding inspiration in seeing how millions are achieving their dreams. Then, he's crazy about motorsport.
So much so that he's created the Crowd1 Racing Team with a singular goal: to participate in the biggest race in the world – the Dakar Rally. In doing so, he's putting Crowd1 at the forefront of a thrilling sporting event, and having fun doing so!
Success comes with responsibility, and George wants to pass on what he's learned.
"What are your motivations? Better schooling for your children, or caring for your parents? Whatever the reason, make it personal" he says. 
George emphasises learning more about the company.
It may take some time, but dedication will pay off. It's essential to be 100% committed, not give up, and not take "no" for an answer. Trust in company management and, importantly, help others become successful too. As he's said before, it's a family.
George is especially excited for the projected growth of Crowd1, including further global expansion, and many amazing developments surrounding its gaming offerings and compensation plans. With further development into the digital universe, George confidently predicts explosive growth.
George van Wijk is living his dream. Here's to the next three years with Crowd1.
About Crowd1
Crowd1 is an established online social community and marketing company with its office registered in Dubai, UAE, with a unique and empowering vision to unleash the opportunities provided by global marketing.
At Crowd1 we are proud to be democratizing access to the next revolution in the digital space, online crowd marketing.
With an extensive and swiftly expanding community of passionate and highly motivated entrepreneurs, we aim to make Crowd1 the pre-eminent name in online marketing. For more information, please visit www.crowd1.com