QuiAri Adds MLM Leader Paula Phuong Phan from Vietnam & Australia
February 10, 2022
By Nicole Dunkley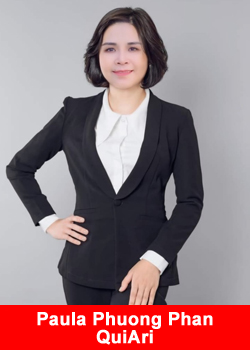 What's the difference between a good leader and a great leader? Someone that isn't afraid to go all-in on helping others. At QuiAri, Paula Phuong Phan is that Super Star who brings her energy, experience, and compassion to every meeting.
She is originally from Gia Lai, Vietnam, but currently lives in Brisbane, Australia. Paula's success as a QuiAri Promoter isn't surprising, considering her well-rounded career outside of the MLM industry.
"I love learning about everything. I have Bachelor of Arts degrees in Economics and in Foreign Language (English), and a Master's Degree in Development Management. That's not enough for me.

I'm always enrolled in some advanced education class that focuses on business. I got into Direct Sales through a skincare company and just fell in love with the industry, the time freedom, the opportunity for financial freedom —it has been the perfect fit for my lifestyle.

My spirit animal is the kangaroo here in Australia. That's because kangaroos always go forward – they don't know how to go backward,"
said Paula Phuong Phan     
Paula has been a fan of QuiAri for quite some time now. She joined QuiAri part-time while managing a successful career as a Business Director selling products on Amazon.com's international sales platform.
"I was fortunate in my past career to have traveled to 20 different countries for business purposes. I hope to break that record now that I am a full-time QuiAri Promoter.

This is the most lucrative opportunity I've seen in a very long time, and I didn't want to miss out.

I tried the products and lost 11 pounds in 1 month. Ever since then, I've been earning money instantly through encouraging others to try and buy QuiAri products,"
stated Paula Phuong Phan.
 As a busy working mother, QuiAri products were exactly what she needed, and they were unlike any other products she tried. She loved rich, smooth flavor of QuiAri Shake and enjoyed the intense focus of QuiAri Energy. 
"I found that my productivity increased while I was taking the products, helping me get more accomplished. There was an overall healing energy that connected deep within my soul.

I wanted to share the experience with others, so I became a Promoter. The Opportunity is so generous that it gave me the ability to quit my job and focus on QuiAri full-time.

I've had no regrets. I love being a part of the QuiAri family and earning Same Day Pay after each sale I make in the 200 countries QuiAri serves every day,"
said Paula Phuong Phan.                        
QuiAri is the first company in the industry to offer Same Day Pay, that's commissions paid in "the blink of an eye," according to Paula. (5 minutes or less.).
QuiAri has worked very hard at developing a solid infrastructure to help Promoters perform at their highest potential. Founder and CEO, Bob Reina, and his Executive Team with over 150+ years of MLM experience have created a revolutionary business model designed for success.
"Immediately after joining Promoters are given access to a free QuiAri Mobile App, which gives us access to their cutting-edge QuiAri Portal loaded with videos, social media posts, training guides, and more.

We're given our own personalized self-replicating website to promote our business, and everything is translated in 6 different languages.

The support Promoters receive at QuiAri is off the charts. I was impressed right away with the way I was treated and knew I made a good choice,"
stated Paula Phuong Phan.
The QuiAri Business Opportunity revolves around QuiAri's now famous motto: "Try. Love. Share." Once people TRY the products, they fall in LOVE with them, and want to SHARE with others. Paula enjoys the ease of teaching others about the power of duplication and the simple sample system. 
"There are only 2 steps to remember: Step 1 – drink a delicious chocolate/vanilla shake in the morning. Step #2: Take a QuiAri Energy tablet when you need a boost throughout the day.
It's easy for Promoters to teach and Everyone to remember. It has been quite an experience introducing people around the world to QuiAri and then seeing their dramatic physical transformations.
It is such a gratifying way to make my dream lifestyle become a reality,"
said Paula Phuong Phan.
Dreams are what drives the MLM industry. As Paula gets closer to QuiAri's top rank of Purple Diamond, her dreams could potentially become reality.
"My dream is to provide a better life for my children, move into a better, more modern home, travel more, and be able to give back more.
I'd love to give back to my extended family and friends back in Vietnam and my favorite charity "1,000 Single Moms," which helps struggling single mothers get back on their feet,"
stated Paula Phuong Phan.
Paula's favorite quote is "What's in your heart can be in your hands." She believes in the next 5 years, we'll start see everyone around the world living better, healthier lives all thanks to QuiAri. 
"I'm so happy to have found QuiAri. I have made long-lasting friends, improved my health, and the extra income I'm earning has changed my lifestyle. I can't thank the leadership team enough for all that they've done,"
said Paula Phuong Phan.
 To learn more about QuiAri, their products, and the opportunity to become a Promoter, visit https://quiari.com/en, or follow them on social media @QuiAriOfficial.
About QuiAri
QuiAri is the #1 health and weight loss movement in the world today. Featuring exclusive, breakthrough products (QuiAri Shake and QuiAri Energy) featuring the world's new #1 superfruit, the Maqui berry, people everywhere are losing weight, boosting their energy levels, and improving their health. What started as an idea has now become a worldwide phenomenon, gaining a passionate following in over 200 countries. But that's not all! We boast an exciting opportunity to promote QuiAri products and earn commissions within 5 minutes after each sale through industry-first, state-of-the-art payment technology. Combining unrivaled products with the fastest payout, the fastest cycling binary, and one of the highest-paying compensation plans in the industry, there's no doubt QuiAri is helping people live healthier, happier lives. To learn more, please visit quiari.com.
Income Disclosure Statement
 Please note the QuiAri business opportunity offers unlimited income potential. However, QuiAri makes no guarantee of financial success. Success with QuiAri results only from successful sales efforts, which require hard work, diligence, skill, persistence, competence, and leadership. Your income will depend upon how well you exercise these qualities.
These statements have not been evaluated by the Food and Drug Administration. These products are not intended to diagnose, treat, cure, or prevent any disease.