Teresa Chavez: Appointed New Director of Marketing with APLGO
February 23, 2022
By Nicole Dunkley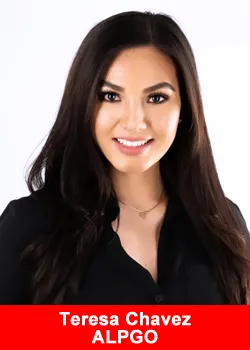 Teresa is a communications graduate from Utah Valley University. She is passionate about people and enjoys building genuine relationships while helping others achieve their highest potential. Her career in network marketing began in 2013 with Zija International.
She fell in love with the industry and trail blazed her way to Manager of Field Development, where Teresa worked closely with top field leaders, helping take their business to the next level through strategy and execution.
Following her career with Zija International, Teresa had the opportunity to work with a couple of other multi-level marketing companies that allowed her to gain valuable skills and knowledge.
"Throughout my career in network marketing, I have served in different leadership positions such as; Assistant Manager, Manager of International Support, Regional Sales Manager, Manager of Field Development, and Director of Marketing and Communications.

Aside from my career in network marketing, I work as on-air talent for Telemundo, an American Spanish-language television network owned by NBCUniversal.

I am thrilled to form part of APLGO's incredible team of top-notch professionals and contribute to the success of this remarkable company. Great things are coming ahead!"
Eddie Sandoval: International Director of Customer Experience
Eddie Sandoval is the International Director of Customer Experience for APLGO. With 25 years of experience working alongside executive teams in several MLM companies, he has become a well-versed individual in the field of Service, Support and Customer Experience.
Eddie specializes in support technology and is responsible for educating other employees on using progressive systems and applications, including software, communication procedures and organizational services that empower others towards positive results. Eddie has managed local and international teams residing in different countries and dealing in several languages.
Throughout the years Eddie has become a powerful force in the workplace and uses his positive attitude and tireless energy to encourage others to work hard and succeed. Eddie is inspired daily by the success of other associates growing their business, as well as making sure that a favorable outcome is available to everyone that experiences any type of issues while building their business.
He is a resourcefulness enthusiast that loves not only the interaction the field he works with, but also the satisfaction that comes along with helping others achieve their goals.  Eddie loves to spend time with his family while not at work exploring the beauty of outdoor activities.
About APLGO
Our corporate team will lead you to financial well-being. We will show you the world in our travels and help you succeed. The founder of the company is a successful, international network marketing leader. Our Corporate team is made up of professional and experienced managers. Our head office consists of a huge team with six departments and sixteen divisions. We work with the best leaders in the industry to ensure every aspect of the business is covered.
We create a positive atmosphere for every employee and treat our customers with respect. Founder and CEO Sergey Kulikov made his first $1,000,000 at 21 years of age. He is the author of an online educational platform used within APLGO since 2014 that tracks and manages Associate efficiency. For more information please visit us.aplgo.com
Recommended Distributors APLGO