Velovita Launches Charitable Match Program
February 9, 2022
By Nicole Dunkley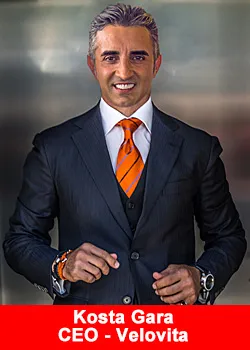 No strangers to big news in the areas of product launches, business updates and Member rewards, the Founders of Velovita did it again on their February 7th monthly zoom update.
On the list of several exciting updates was the announcement of another industry first; the Velovita Charitable Match program. (VCM)
Velovita believes that doing well and doing good go hand in hand. Among other initiatives that speak to this, the VCM Program was launched in an effort to help those with influence to earn money for, and further support the causes they passionately care about. 
The VCM Program provides a platform for verified, popular influencers such as political figures, celebrities, athletes, authors, speakers, or church/religious organizations to positively impact the lives of their followers, and their chosen charities at the same time. 
Certainly, fundraising efforts are not new to the direct sales industry but what makes the VCM particularly unique is Velovita's dollar for dollar contribution to the charity itself.  As the influencer shares their enthusiasm for Velovita products with their followers, they will earn proceeds from every purchase. 
As long as they donate at least 50% of their earnings to their pre-approved charity, Velovita will match their donation, dollar for dollar, to that charity! 
This not only provides benefit to the Influencer and the charity itself, but also the referring Velovita Member, as all sales generated apply to the Member Rewards Plan and Rank Requirements like normal, creating a true win/win for all!
Founder and CEO, Kosta Gara shared,
"We want to impact a variety of charities and important causes that our Members choose to support.

Matching their donations is just one way we can ensure that work has a broader reach. We're so excited about this giveback initiative and we invite all influencers to get involved!"
About VELOVITA
Founded on 90+ years of operational and field success, VELOVITA is rapidly becoming a global leader of innovation in the field of biohacking, social selling, community expansion and support for the new world entrepreneur. Their mission is to provide an ecosystem of inspiration, education, and life enrichment. VELOVITA has a singular focus on the individual to increase their daily performance both mentally and physically.
For more information on VELOVITA, please visit Velovita.com or Velovita's Facebook page. You may also connect at [email protected] To join the new movement, click here for the Velovita Member Rewards. We know you'll #LOVIT!
Recommended Distributors Velovita