Anthony Chatelain Ambassador 1 Star Rank At Crowd1
March 11, 2022
By Team Business For Home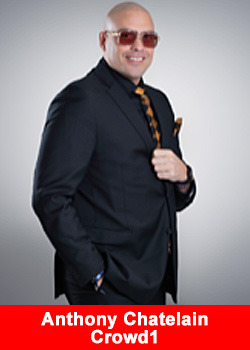 Crowd1 Ambassador Anthony Chatelain envisions an incredible future.
It's all about having a "President Mindset"
What do you do next after earning a Master of Science in Nuclear Engineering from MIT? Rest on your laurels? That was never an option for Anthony Chatelain, Ambassador 1 Star at Crowd1.
For Anthony, mathematics and strategic thinking are the keys to his success. Yes, these have helped him obtain that seriously impressive academic degree, but he has also employed such in his very successful 18-year career as professional poker player.
More importantly, it led him to Crowd1. The company's blueprint of building a community of networkers by providing them with a tantalising portfolio of digital products to use and recommend made complete sense; it was simple math.
His impressive trajectory in the company attests to his gifts: in a mere 18 months he had attained the rank of Ambassador 1 Star.
How did he become so successful, so quickly? It may surprise you that, for Anthony, it's not about being a good salesman. He believes you need to identify and surround yourself with people who are better than you – and that means being a great leader and champion of others:
"A great leader is a coach, a teacher, a mentor and motivator".
You need to not only keep working and building on your own habits for success, but you need to be able to teach those around you to do so as well.
He truly believes that you can't reach the top without helping others reach their goals and rank up – so you need to surround yourself with likeminded positive thinkers. Anthony calls that having a "President Mindset".
Such an enviable attitude is wonderful, and it's bolstered by Crowd1's fabulous roster of products. For Anthony the standout is, without a doubt, PLANET IX. He believes that PLANET IX, the world-building online crypto-based game, is the new frontier when it comes to Metaverse integration.
Not only do players (so-called "Agents of Change") get the opportunity to build their portfolios through the game's Play2Earn concept, but they also contribute to real-world change through its contributions to sustainability charities.
By including PLANET IX in its portfolio, Crowd1 shows true "future thinking" and has shown itself as the premier way to get a foothold in the Metaverse and all it encompasses. Anthony plans to be a frontrunner here too. With all his previous successes, this should come as no surprise.
What inspires Anthony? The success of others, people with vision and those who grab opportunities. For him, being confident and connecting with others will grow your network and see you climb the ranks. It's just simple math.
About Crowd1
Crowd1 is an established online social community and marketing company with its office registered in Dubai, UAE, with a unique and empowering vision to unleash the opportunities provided by global marketing.
At Crowd1 we are proud to be democratising access to the next revolution in the digital space, online crowd marketing.
With an extensive and swiftly expanding community of passionate and highly motivated entrepreneurs, we aim to make Crowd1 the pre-eminent name in online marketing. For more information, please visit www.crowd1.com