Carmen Ma Achieves Senior President 3 Star At Crowd1
March 18, 2022
By Team Business For Home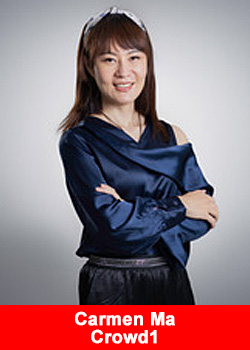 Carmen Ma is a leader in Crowd1 and she has sent a clear signal that she's someone to watch, rising to the rank of Senior President 3 Star in only two years.
How has she become this successful, so fast? Carmen believes it's a combination of passion and motivation, positive energy, putting in effort and working harder than the next person.
Carmen seems to also have an innate drive, if you consider how she managed to extricate herself from what she considers to be the lowest point in her life: racking up gambling debts of more than $100,000. Many of us would've sank under this burden. Not Carmen Ma.
She used this as fuel for her fire, setting herself the goal to not only clear this debt, but also vowing to buy an apartment within a year. Working with high-margin products and selling these online, she not only paid off her debt, but also bought two apartments.
It was only a matter of time before she unleashed her talents in the Crowd1 universe, starting with the company in January 2020 and steadily climbing the ladder. That begs the question: what qualities does Carmen believe make a good leader?
Leading from the front, being willing to ask your team to take risks – but not before you have taken those risks yourself. Of course, you should exude positivity and pass that energy on, and continuously think of innovative new ways to inspire.

It's imperative to stay up-to-date with company developments, making sure you're able to give the best advice to your downline.
Carmen believes that the importance of training in developing your team cannot be overstated – not only because information and knowledge is shared, but also because this builds team cohesiveness and promotes a strong company culture. She's in the habit of setting up marketing and training plans, and then holding a meeting with core members to gain their inputs before sharing with the rest of the team. Collaboration is clearly key.
A third-party product offered by Crowd1 that has Carmen and her team especially excited is (of course) PLANET IX, the online crypto-based gaming phenomenon. The game's play-to-earn concept is red-hot – not to mention its coveted NFTs and specialised tokens.
A big draw for Carmen is the game's sustainability angle, giving players the opportunity to make a difference in the real world through ecological contributions. Carmen is excited to be able to expand her PLANET IX territory, and pass on her experience to her team.
It's clear that Carmen is a conscientious leader. Who motivates her? People with a selfless spirit and a big heart, who choose to use their skills towards the upliftment of others. Such a person is Crowd1 Ambassador Magnus Larsson, whom Carmen regards as her "spiritual mentor".
It's clear that Carmen Ma's self-belief, inner fire and gritty determination will take her far. Her ambition? To reach the rank of Ambassador at the end of 2022. Her further progress is sure to be inspiring.
About Crowd1
Crowd1 is an established online social community and marketing company with its office registered in Dubai, UAE, with a unique and empowering vision to unleash the opportunities provided by global marketing. At Crowd1 we are proud to be democratising access to the next revolution in the digital space, online crowd marketing.
With an extensive and swiftly expanding community of passionate and highly motivated entrepreneurs, we aim to make Crowd1 the pre-eminent name in online marketing. For more information, please visit www.crowd1.com.