iX Global Revenue Up To $22 Million In First Full Year
March 5, 2022
By Team Business For Home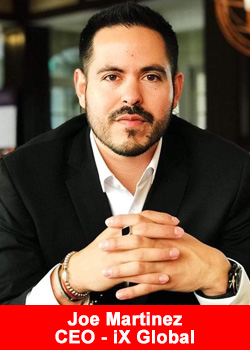 Start-up iX Global is a company on the move. 2021 was an exciting first full year of business that led to $22 Million in revenue, and over 75,000 Brand Ambassadors in the community.
iX has had its first taste of success, it is setting its sights much higher – the company's new goal is to reach $100 Million in total sales revenue this calendar year.
And as has become the habit for this precocious young company, it is already backing up its bravado with action and results, as sales have jumped from $2 Million in January to over $11 million in February.
iX Global was founded on the concepts of Innovation, Inspiration, and Impact on others; self betterment was and still is the foundation underlying everything the iX community does.
Joseph Martinez and the leadership got to work sharing this vision, and by the end of 2020 they had generated about &4.5 Million in sales revenues.
As 2021 came to a close, iX Global once again was innovating behind the scenes. iX looked at the global digital landscape, and saw a massive opportunity in an emerging market: NFTs.
Understanding the opportunity, owner Joseph Martinez made a deal with an up and coming NFT based online game by securing exclusive rights to the game's white list pre-launch pricing.
The iX community responded with massive action, which led to the $11 million dollars plus in revenue that iX generated in the month of February.
About iXGlobal
iX's continued evolution into a multidimensional platform that serves digital entrepreneurs from a variety of angles gives it the edge it needs to succeed in the ever changing modern global environment.
As iX moves into March and the rest of 2022, its 100 million dollar sales goal is firmly in its sights. To learn more about iX Global and see what is coming next, please speak with the person who shared this article with you, or visit us online at ixglobal.us.
Recommended Distributors iX Global