Kauri Thompson Named General Manager At APLGO International
March 14, 2022
By Team Business For Home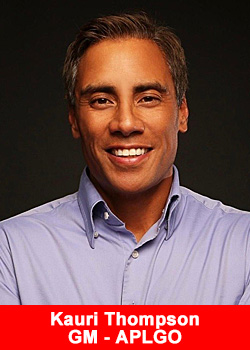 Owner and Founder Sergey Kulikov, recently named Kauri Thompson as General Manager of APLGO International. Sergey Stated:
"Kauri has been a top executive for many Direct Sales Companies and provides the leadership necessary to manage our growth.

Besides the US, his experience in the Asian, Latin and European Markets will greatly benefit our company."
Kauri has been in the Direct Sales Industry for 25 years. He has been a top leader in the field which gives him greater insight into the industry.
I'm excited about what we are doing here at APLGO. In my opinion, nutritional companies offer entrepreneurs the simplest approach to creating natural conversations that lead to sales."
APLGO's Anion (Negative charged) DNA Drops offer an innovative and alternative approach to pills and capsules which have dominated the market for hundreds of years.
"I believe innovation can create wealth. If you have a new story to tell, you can make a lot of noise. If your product works, then managing growth becomes your greatest obstacle."
APLGO has spent the last six month upgrading their corporate teams for global expansion and is primed for explosive growth. Kauri lists four factors that have catapulted APLGO's rise over the past two years including #13 rank in momentum as well as voted #1 Direct Sale company in 2022.
Category creator product line priced for the global not just the industrialized markets.

Already global demand for what our DNA Drops deliver.

True 63% Compensation Plan payout.

Culture: Founder Sergey Kulikov is a unicorn when it comes to events; Panama Survivor 2021 for his top 40 leaders, APLGO Triumph Space Odyssey, Golden People Africa etc.
"In all my years in this industry, no one has experienced events like APLGO's. We wish success to everyone in our industry and hope to change lives for the better"
About APLGO
Our corporate team will lead you to financial well-being. We will show you the world in our travels and help you succeed. The founder of the company is a successful, international network marketing leader. Our Corporate team is made up of professional and experienced managers. Our head office consists of a huge team with six departments and sixteen divisions. We work with the best leaders in the industry to ensure every aspect of the business is covered.
We create a positive atmosphere for every employee and treat our customers with respect. Founder and CEO Sergey Kulikov made his first $1,000,000 at 21 years of age. He is the author of an online educational platform used within APLGO since 2014 that tracks and manages Associate efficiency. For more information please visit us.aplgo.com
Recommended Distributors APLGO