Top UK Leader Chanelle Fry Launches The Spellbound Co.
March 28, 2022
By Team Business For Home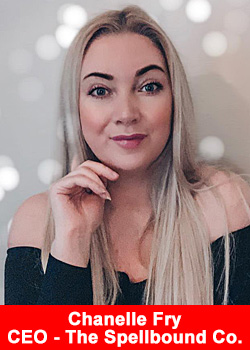 Top UK Network Marketing professional Chanelle Fry launches Brand New Direct Sales Company, 'The Spellbound Co.' and takes on role as CEO to lead a new generation of online marketing.
Chanelle Fry Has been involved heavily in the work from home industry for the last 10 years, previously reaching the pinnacle positions as distributors within the field beside her husband and partner of The Spellbound Co. Terry Fry, they held the rank of No.1 income earners in Europe for a well-known company.
On making the move from the field to corporate Chanelle said:
"I am delighted to announce my role as CEO for The Spellbound Co. As we move into a new age of Direct Sales, along with my team, we will be pioneering a new culture that's called for in the industry.

Our business has already an established and unique product offering with a strong focus on raising the standards within the UK industry.

We are the 'Self-Care company' and all our products are handmade with love within the UK, we are passionate about contributing to the economy and creating products people want and are proud to share."
Commenting on the company mission, Chanelle said:
"Everything from our home fragrance, to clothing, to our bath and body range is grounded within the company's core values.

These are Self-Care, Empowerment and Ambition. Our outstanding Career Plan also reflects these values and we have devised a compensation plan that works for everyone.

From those that want to simply social sell and earn a commission from sharing and retailing, right through to those who want to create a full-time income and beyond.

Having experienced first-hand the financial freedom this industry can provide it was important to us to create a plan that allows ambitious Ambassadors to reach their goals."
When asked about the future of The Spellbound Co. Chanelle quoted:
"We have already tested, proven products that customers love having been established as a retail brand since September 2020.

This puts us in a fantastic position for launch. Products are ready with new ranges being added, we have also put together some fantastic optional starter kits for new Ambassadors along with an option to join the company for free so there are no barriers to entry.

Our pre-launch for the UK and Northern Ireland begins on the 1st April 2022 and we will be fully launched and operational by early May.

The Spellbound Co. Team are already strategizing launching in new markets, particularly the U.S, Republic of Ireland and Spain. We have an ambitious vision and the skills, people and products to achieve the companies' goals."
About The Spellbound Co.
Chanelle Fry, co-founded the company, and is a Mum from London, UK. One of the top Network Marketing Female leaders in the industry, international speaker, trainer and Business Coach with a huge focus on freedom, travel and helping women create passion led businesses.
Caroline Ray, Mum to Chanelle, has had a long, successful career in education and previously worked in media.
Our candles hold power in their intention, in their beauty and craftsmanship.
But this is a brand that will be bringing you more and more, we aim to push the boundaries. Just like we do in our lives, we don't settle. We believe in a life of evolution, growth, support and positivity.
To learn more about the company and register your interest in their pre-launch head to www.TheSpellboundCo.com