Violeta Vazquez From The USA Achieves Crown Diamond Rank At XIFRA
March 9, 2022
By Team Business For Home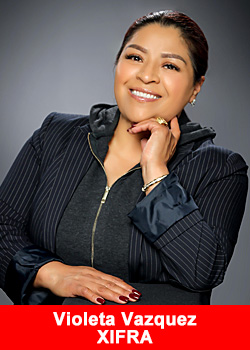 Violeta Vazquez residing in the United States is a proud holder of the Crown Diamond rank.
Violeta has been in network marketing for over 6 years now, and she admits that she decided to join the industry looking for a different lifestyle and got inspired listening to the story of a woman who was successful in this business.
"It took me about 14 years to find a business that I liked, that would allow me to live the way I wanted to live.

In the meantime, I was still running my house cleaning company, and one day, a person told me that she saw a potential in me to do what she was doing. She just took me to one meeting, and I decided to start out immediately."
However, things didn't go as smooth as Violeta expected. Some time after she first tried network marketing, she was already forced to look for a new mentor or a new company.
Decided to devote herself to the networking profession full time, she closed her own business and threw herself into the industry. Violeta then joined several MLM companies and started learning little by little, but she still couldn't see significant results. Until 2020.
"In March 2020, I came across a video by Omar Salazar, from XIFRA, and it struck me powerfully when he said that all the associates were earning money and every day.

Those words resonated with me over and over again, and that was why I decided to contact him. And that is how I started out with XIFRA."
I'm thankful that my upline Omar Salazar was the bridge for me to find my mentor, Mr. Jonathan Sifuentes, who is the person who made me dream big and always encouraged me to reach my goals. Since then, XIFRA has become my family.
I'm achieving one goal after another and always keep moving forward. It's been the greatest privilege I've had to really help a lot of people. There are no limits and no excuses: whatever comes up, you find a solution, it's as simple as that."
Viloleta is extremely focused on not only achieving the next rank, which is Royal President, but also, and mainly, on growing and supporting her team and bringing forward at least 4 Royal Presidents. Violeta is very passionate about XIFRA and network marketing in general:
"For me, XIFRA is the company where I want to retire. It has the most impressive vision and is led by a CEO, Jonathan Sifuentes, who is completely involved and committed.

Not only has he delivered on every point he has told us, but he always goes above and beyond.

If a person who cleaned houses for twenty years now earns what I earn and help so many people to reach their dreams, then anything is possible."
About XIFRA
XIFRA is a disruptive and innovative technology company with a global presence and a decentralised smart ecosystem. Making use of the MLM business model, the company's main goal is to provide knowledge about the latest trends in cryptocurrencies and Blockchain technology with its proprietary algorithmic trading software, creating a decentralised financial protocol through the sharing economy.
XIFRA boasts an extensive ecosystem that also offers other business lines under the MLM model, such as wellness and beauty products, education, real estate solutions and hemp farming. For more information, please visit www.xifralifestyle.com
Recommended Distributors XIFRA