Zaid Hassan achieves Diamond rank with OmegaPro
March 27, 2022
By Team Business For Home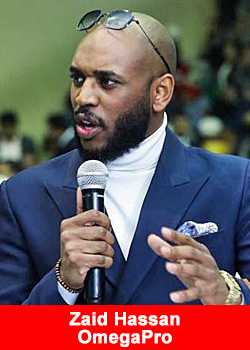 Coming from a completely different career background, Zaid Hassan, a simple former firefighter with strong will and results driven from the Middle East has achieved the diamond rank with OmegaPro.
His strengths are his indomitable spirit to learn and improve every day, his passion to build a top performing team and his ardent desire is to empower others like him to lead meaningful lives.
Zaid found out ways to jump hurdles and navigate around the roadblocks that would stop others completely.
"One of the main reasons to join OmegaPro are the founders and the Vice President Paulo Tuynman, which created a system where anybody can become an extraordinary person, all doable through unique tools that only this company offers."
He is now working towards the next rank at the company which is that of blue diamond and it's just a matter of time before he hits the next promotion.
About OmegaPro
The mission of OmegaPro is to deliver a secure world class trading experience to all clients – both retail and institutional. We continually invest in new technologies and people, to provide our clients with a diverse range of trading products and exceptional trading outputs.
Moreover, we put a major emphasis on account security – we use the most advanced tools and encryption protocols and provide plentiful market liquidity to ensure your capital. Thanks to the vast market volume that OmegaPro handles and our strict risk policies, we can ensure that your account with us is secure, while connecting you to the fast-paced global markets.
With over 1.5 Million members joining the OmegaPro family since its recent inception in 2018 – this revolution of bridging the gap between the traditional and the digital is just getting started!
Driven by the virtue of innovation and an ambition towards unparalleled idiosyncrasy – OmegaPro is 'Building wealth without border for people without borders'. For more information please visit: www.omegapro.world