ByDzyne's Gustavo Salinas Becomes First 2-Star Crown and Makes History
April 6, 2022
By Nicole Dunkley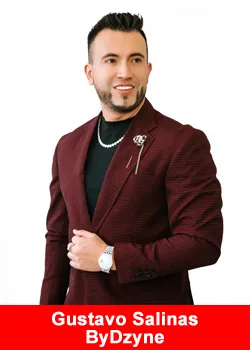 Toppling every major record set before him since he joined ByDzyne in late 2020, Gustavo Salinas has trailblazed the standard yet again. Shattering even his own expectations, the Ecuadorian superstar has become the company's first 2-Star Crown.  
* A 2-Star Crown generates between $2 – $4 million in sales revenue during a two-week span. 
Tremendously motivated by his deep faith and innate desire to serve others, sacrifice for his team, and leave a positive imprint on the world, this historic achievement is about so much more for Gustavo.
From a fledgling journey that began just eight years ago when he led meetings of only six people in the living room at his father's house, to becoming a modern-day network marketing icon and influencing thousands in the industry and beyond, the young superstar is living his dream. A dream he believes is from the Lord, and meant for the prosperity of others. 
"I feel incredibly grateful and truly blessed in becoming the company's first 2-Star Crown.

And it's not only for the money or for the recognition, but rather for what it truly represents—it means that people in my team are changing their lives for the better,

that leaders are growing and becoming the best versions of themselves, and that it showcases that we are making a real impact not only in my country and my region but worldwide,"
shared a proud Gustavo. 
That impact has been felt far and wide. In just four years, ByDzyne has become one of the most sought-after opportunities in the world. The company is now operating in close to 40 countries, has doubled its sales every year since its inception, and has continued to unveil some of the industry's most innovative products such as the recent launch of MetaVerse and the TLC Moled G—the world's first micro OLED Glass—and the VRLU Master Academy, a one-of-a-kind virtual reality learning platform. 
Gustavo is quick to attribute his and the company's unbelievable success to ByDzyne's visionary corporate team. 
"I have always believed that when you see an athlete winning the gold, the victory is just as much about the leaders and coaches surrounding that individual.

In this case, I've got some of the best ones out there. Nat and Chanida, Chad and Nattida, and the rest of the executive team have led me to where I am today, and I want to thank God for blessing me with such an opportunity and mentors on this road to success,"
expressed a grateful Gustavo. 
Likewise, the 2-Star Crown's mentors have been blown away by the Ecuadorian's dedication to his craft, his limitless vitality, and his generous spirit.  
"Congratulations to Gustavo Salinas on becoming the company's first 2-Star Crown! You have a dedication like no other, a work ethic that is so infectious, and your drive to give back is so inspirational.

You are a dream come true to this company, and we celebrate you today on yet another record broken. Thank you for being an integral part of BD Nation, and for helping lead the way for this company to be the number one organization in the world,"
conveyed Chad and Nattida Chong, ByDzyne's cofounders. 
Nat and Chanida Puranaputra, ByDzyne's chairman and chairwoman and widely considered the most influential trainers and minds in the industry today, are also in awe of what the Latin American leader has been able to achieve. 
"Gustavo Salinas is a phenomenal leader with character, perseverance, and the right attitude!

Congratulations to you, your family, and your team on this incredible milestone in becoming the first 2-Star Crown here at ByDzyne,"
uttered the Puranaputras.    
A firm believer that all wholesome experiences that catch fire begin with a small spark, Gustavo is ready to capitalize.  
"All that has happened here recently is amazing, but what is even more exciting is that this is just the beginning.

Get ready, world, because as I said not even two years ago when I joined ByDzyne, this company is going to change the world. And believe me, it will,"
exclaimed Gustavo.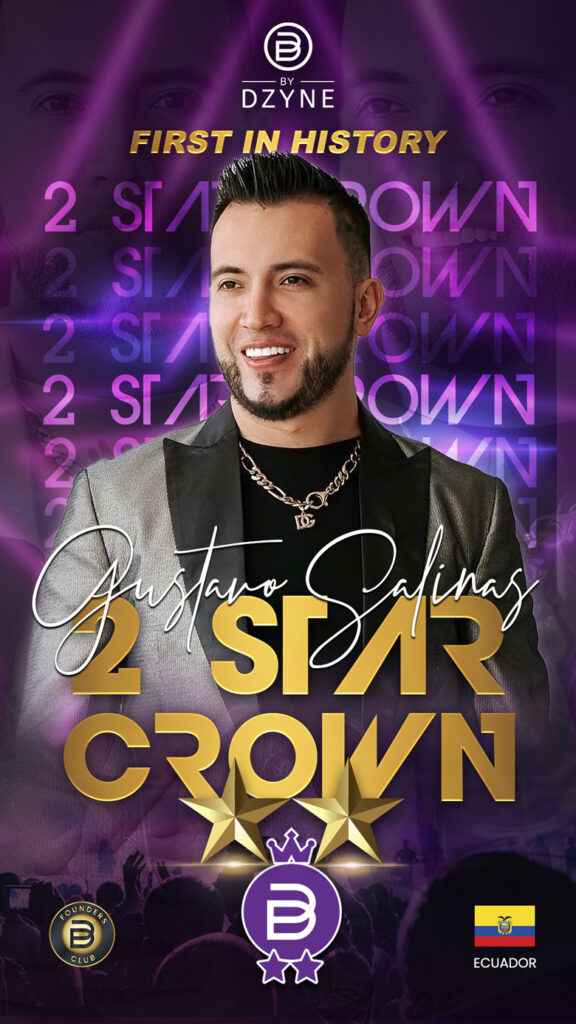 * ByDzyne makes ZERO income guarantees. It takes hard work and dedication to make a substantial income. All results may vary. In the year of 2020, the typical annual income earned by an active ByDzyne Brand Ambassador is $540.05 and the median amount of commissions, bonuses, and overrides received by all active Brand Ambassadors in ByDzyne is $0.00. For the full income disclosure, please visit www.bydzyne.com/IDS
Recommended Distributors ByDzyne