Hector Larc From Mexico Achieves Royal President Rank At XIFRA
April 1, 2022
By Team Business For Home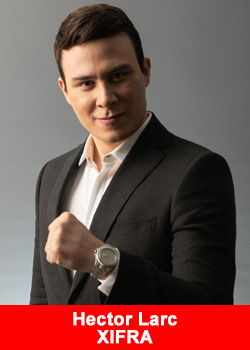 Hector Larc is a young, but experienced professional with 12 years of experience in the network marketing industry. From the beginning of Hector's career, his most outstanding skill has been the ability to learn and maintain constant personal growth.
"My luck was that I met great leaders and life mentors, such as Tony Robbins, John C Maxwell, Robert Kiyosaki, T. Harv Eker among others.

Learning is very important as in this industry, it's not that much about your financial results, but about the person you become."
This approach couldn't but start bringing results one way or another, and today, Hector Larc can proudly hold the highest rank at the XIFRA company.
"There was time when I accepted a corporate job in a traditional industry, but I soon got frustrated by the amount of work, little money, but most importantly, no personal or professional challenge. And this is why I decided to join XIFRA."
Hector became part of the XIFRA family in 2020, and after two years of joirney, he can't be more excited about his decision:
"I still can't believe that this company is so different. I'm amazed by this great decentralised concept that we take advantage of today. We're taking great steps every day, and most importantly, I feel free. I choose what to do with my time and I live incredible experiences.

The Royal President is the highest rank at the company, but for me, it means the fulfillment of my dream life in which I helped so many people to change their lives and those of their families. I am infinitely grateful for it because it gave me my longed-for freedom.

Hector tells us that in the future he would like to focus on teaching and financially educate entrepreneurs fort hem to know what to do with their earnings and build their empires.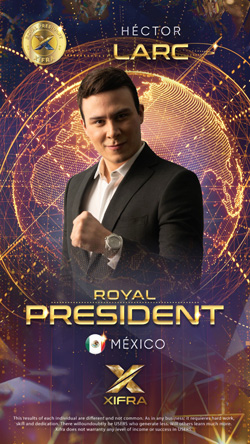 As a conclusion, Hector leaves us his personal quote that is his motto:
"If you are not willing to risk the unusual, you will have to get used to the ordinary."
About XIFRA
XIFRA is a disruptive and innovative technology company with a global presence and a decentralised smart ecosystem. Making use of the MLM business model, the company's main goal is to provide knowledge about the latest trends in cryptocurrencies and Blockchain technology with its proprietary algorithmic trading software, creating a decentralised financial protocol through the sharing economy.
XIFRA boasts an extensive ecosystem that also offers other business lines under the MLM model, such as wellness and beauty products, education, real estate solutions and hemp farming. For more information, please visit www.xifralifestyle.com
Recommended Distributors XIFRA