ByDzyne's Daniel Chagüi from Costa Rica is Company's Newest 1-Star President
May 16, 2022
By Nicole Dunkley
ByDzyne is dominating the network marketing headlines in Latin America yet again, this time with the unveiling of its latest 1-Star President, Daniel Chagüi from Costa Rica. 
* A President generates over $200,000 in sales revenue during a half-a-month span. 
Chagüi, a 42-year-old retired medical physician from San Jose, Costa Rica, carries with him over 15 years of experience in the industry and has impressively built teams all over the world including in the United States, Europe, and Central and South America. 
Extremely motivated to pursue his and his family's dreams of helping thousands of people achieve financial independence and purpose in life, coupled with desiring to become the best version of himself on a daily basis, the Latin American leader found ByDzyne and recognized it was the perfect vehicle to meet those aspirations.   
"The digital trend is rising by the day. ByDzyne offers a fresh and striking message, where any Brand Ambassador can have the possibility to leverage and monetize from the best and hottest business trends.

I am confident that the ByDzyne opportunity has the adaptability to stay relevant and become a billion-dollar brand in the future.

From its core, I am amazed by the founders, who are a true reflection that anything is possible with hard work, integrity, and service. It is an honor and a privilege to have them as mentors in life and business,"
shared a captivated Chagüi.
The Costa Rican leader credits his family and his entire team for the recent rank advancement, stating that the group simply went all in—non-stop daily battles in the trenches of work, remaining focused on the shared vision, and spreading only good and positive energy. 
Chad Chong, ByDzyne's co-founder, has been blown away by the success of the Latin American market, and lauds leaders like Chagüi for being a catalyst in the region. 
"We congratulate Daniel Chagüi on hitting the 1-Star President rank! Your diligence, efforts, and resiliency have paid off.

BD Nation celebrates this wonderful achievement with you, your family, and the entire Latin American market.

Continue dreaming big, working hard, and believing in yourself and we know even greater things will be up ahead,"
declared Chong. 
In the short term, Chagüi has set his sights on an international convention next month, in addition to pressing firmly ahead with guiding and developing his team to greater heights by the end of the year. 
"I would love to have our whole team attend the first international Latin-American convention in Quito, Ecuador next month.

In addition, my goal is to help at least 100 leaders achieve their Diamond rank by December 2022,"
expressed Chagüi.
Regardless of the outcome, Chagüi believes it's up to him and his temperament that will deliver the very best. 
"I have a mentality of being an endless learner and giving my best in every situation. I remind myself and everyone on my team to 'listen to everyone around you, and for sure they are going to add or teach you something new,' "
stated Chagüi.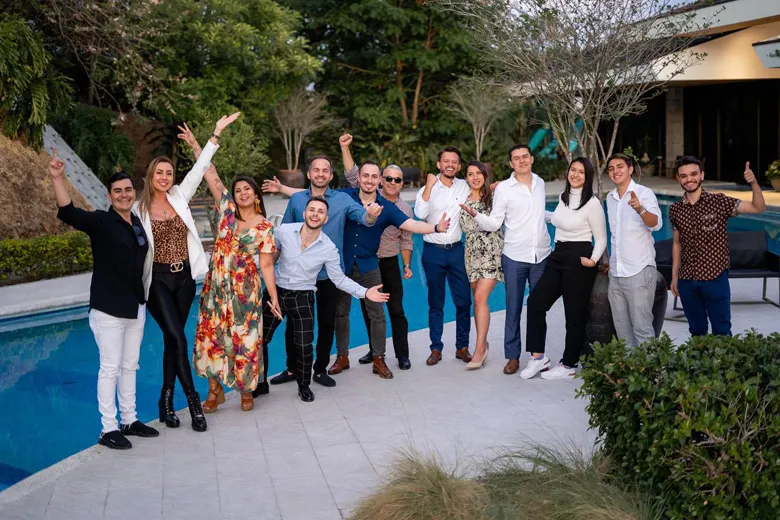 * ByDzyne makes ZERO income guarantees. It takes hard work and dedication to make a substantial income. All results may vary. In the year of 2020, the typical annual income earned by an active ByDzyne Brand Ambassador is $540.05 and the median amount of commissions, bonuses, and overrides received by all active Brand Ambassadors in ByDzyne is $0.00. For the full income disclosure, please visit www.bydzyne.com/IDS
Recommended Distributors ByDzyne