ByDzyne's Jefferson Ocaña from Ecuador Achieves 2-Star President Rank
June 3, 2022
By Nicole Dunkley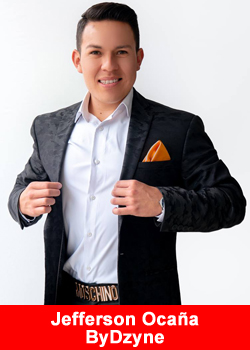 Quickly establishing itself as the frontrunner for leader development and multiplication in Latin America, ByDzyne is at it again with the arrival and unveiling of Jefferson Ocaña, the company's newest 2-Star President from Ecuador. 
*A 2-Star President generates over $400,000 USD of sales revenue in two weeks or less. 
Although the young entrepreneur from Quito, Ecuador, is only 28-years-old, he already has seven invaluable years in the industry under his belt and is considered a rising star in the region.
Motivated from a young age to build a better future for his family, for all those on his team, and ultimately have a successful career in network marketing, Jefferson knew he hit the jackpot when he was first introduced to ByDzyne.
"ByDzyne is a different company because it has a variety of services that allows us to reach different markets and different profiles. With that amazing range, we can build a business anywhere in the world.

In addition, the company's innovation of services virtually guarantees our distributors that we will always have the best opportunity at our fingertips.

For that reason, I would like to share gratitude to the company and our corporate team that has supported and helped us at all times to build our careers and rank advance.

Each of their level of professionalism with the distributors is incredible,"
expressed a grateful Jefferson. 
The Ecuadorian leader, who set this rank goal at the beginning of the year, attributes his mentors, their 90-day strategy, and his diligent team for the outburst of success in 2022.  
"Thank you first and foremost to God, but also to my mentors Gustavo Salinas and Marcell Rodriguez—whom from the beginning have supported me unconditionally and always have the right type of strategy—and to my team of 'zero-excuse' leaders that even without previous experience in the industry have professionally built a successful business,"
continued ByDzyne's newest 2-Star President.
Chad and Nattida Chong, the company's co-founders, are delighted for Jefferson and are forecasting ev more triumphs to emerge from Latin America. 
"BD Nation celebrates Jefferson Ocaña for becoming the company's newest 2-Star President!

We recognize him today for his hard work, leadership and perseverance.

Job well done! We are very proud of all the success in Ecuador and South America and anticipate even bigger things to come,"
the Chongs said.
While Jefferson has already set his goal of becoming a 3-Star President by the end of the year, the leader is simply overjoyed to be a part of such a groundbreaking organization and its exciting future. 
"I am very happy to be able to develop and contribute here at ByDzyne, especially because of the quality of mentors we have in the company and the quality of services that it already provides.

I know our executive team's vision is to become a Billion-Dollar company and I am so delighted to be a part of it,"
shared the South American entrepreneur.  
* ByDzyne makes ZERO income guarantees. It takes hard work and dedication to make a substantial income. All results may vary. In the year of 2020, the typical annual income earned by an active ByDzyne Brand Ambassador is $540.05 and the median amount of commissions, bonuses, and overrides received by all active Brand Ambassadors in ByDzyne is $0.00. For the full income disclosure, please visit www.bydzyne.com/IDS
Recommended Distributors ByDzyne