ByDzyne to Launch its Pioneering LIGHTN1NG Mist Wellness Spray Line
July 22, 2022
By Nicole Dunkley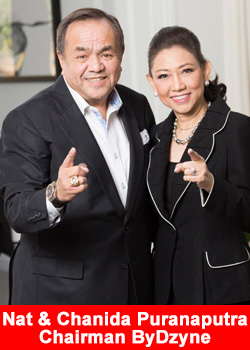 Advancing their vision forward of being trailblazers in innovation and ingenuity, ByDzyne has announced the upcoming launch of its LIGHTN1NG Mist™ wellness line that is certain to revolutionize the health industry as we know it. 
Branding it "Wellness is a Spray", each of these cutting-edge products is targeted to meet some of the most widespread nutritional needs globally, and is expected to be a mainstay in households for the indefinite future.
The product is initially being unveiled with four signature options, which include: 
 

LIGHTN1NG Mist

™

Slim –  Meet your fitness goals on the go! With vitamin B3 and B12 as active ingredients, the Lightn1ng Slim Mist will activate your alertness and energy. It is designed to provide your body with sustained energy with a healthy diet and exercise. Its ingredients not only support physical activity, in and out of the gym but also uplift an energy slump when your body needs it most. 

     

LIGHTN1NG Mist

™

D3

– Spray the sunshine with the Vitamin D3 mist that supplements the body with this essential vitamin. Vitamin D3 is known to support healthy bones, teeth, and immunity along with being an important agent of general well-being. 

     

LIGHTN1NG Mist

™

Biotin – Say hello to hair, skin, and nails that you will love! The liposomal biotin present in this mist supports the healthy growth of nails and hair while also supporting an even texture to the skin.

   

LIGHTN1NG

™

Mist Sleep – What every busy individual needs after a long and busy day is a good night's sleep. The ingredients Melatonin and Valerian Root Extract present in this mist




supports healthy sleep patterns.
"With LIGHTN1NG Mist™, we wanted to provide our customers with an effective but convenient way of promoting their wellness.

In the past few years, the world has been looking for ways to stay on top of their nutritional needs and ByDzyne is going to provide something just for that."
shared an excited Chad Chong, Co-Founder of ByDzyne.
These mists are formulated with the unique Nebula Droplet Technology (NDT®), a novel, optimized delivery system. The one-of-a-kind delivery system supplements an ample concentration of nutrients from its 55-microliter spray without any of the excess fillers and binders found in tablet and capsule technologies.1
The LIGHTN1NG Mist™ spray form of supplementation delivers nutrients and bioactives in a soluble form, removing the need for digestive breakdown and solubilization of bioactive in tablet or capsule forms. 
To add to their specific benefits, each of these mists is manufactured in FDA-standard facilities in the United States. Their hassle-free packaging combined with the consumption technique makes it a must-have for the people of today who want their supplements portable, and easy to consume anytime, anywhere. 
"For me, the LIGHTN1NG Mists are going to be a game-changer.

It's the easiest way someone can say 'YES' to wellness. We cannot wait for our customers to make the most of these products, and also share them with everyone else."
expressed an enthusiastic Nattida Chong, Co-Founder of ByDzyne.
Following the immense success of LIGHTN1NG™ Clean Energy Drink, which was unveiled only last September, and the company's growing reputation of seizing trends before the masses, ByDzyne is clearly on its way to setting monumental new records with the LIGHTN1NG Mists.
About ByDzyne™
ByDzyne's multi-faceted approach disrupts the traditional industry model by first understanding that one size DOESN'T fit all.
You were born into a particular culture, with unique tastes, interests, and desires. ByDzyne™ was created with a mission to celebrate your uniqueness and empower your extraordinary potential. Our exceptional "culture-crafted" products meet distinct needs in key consumer markets, and our lucrative business opportunity was formulated to fuel your ideal lifestyle, as YOU see fit.
Our visionary leadership wanted to create an unparalleled company with your individual needs in mind, whether as a consumer or Brand Ambassador. This customizable approach is a driving force that propels everything we do and will do in the future. We are launching into not one but FIVE of the fastest growing multi-trillion dollar industries, creating one of the most explosive opportunities in the market, starting with technology, beauty, wellness, travel and now trade.
Our mission is to continue to expand our global footprint into multiple verticals to maximize your income opportunities, capitalize on trends, and gain market share in upcoming industries as they advance.
Through ever-evolving innovation, and with the utmost integrity, our experienced executive team strives to stand apart from the pack, and build a legacy you can be proud of; one you can truly call home. We are ByDzyne™. Where limitations don't exist. For more information, please visit www.bydzyne.com.
1These statements are based on research cited based on a report by the manufacturer in 2021 and have not been evaluated by the Food and Drug Administration. These products are not intended to diagnose, treat, cure, and prevent any diseases.
Recommended Distributors ByDzyne