Les Brown: "OmegaPro Is An Achievement Driven Community"
October 19, 2022
By Team Business For Home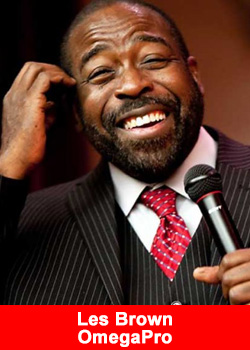 Leading motivational speaker Les Brown spoke to 10,000+ coveted members of the OmegaPro Community on 14th of October over a special Zoom Webinar Session.
Global Education Platform OmegaPro, teamed up with Les Brown, as part of its mission to educate people and create better leaders who will change and reshape the world. This webinar was attended by more than 10,000 people from all over the world. 
"I want to be a catalyst to enable people to see themselves having more and achieving more."
Said Les Brown. 
In the world of motivational speakers, Les Brown is undoubtedly one of the best. Born into poverty and abandoned as a child, Brown went on to become one of the world's best-known motivational speakers. He is also an author, radio DJ, former television host, and a former politician. 
"Scaling life through fiery passion" 
Les Brown's passion to learn and his hunger to realize greatness in himself and others helped him to achieve greatness. Brown rose to fame after he ran for the Ohio State Legislature, winning the seat of the 29th House District. He passed more legislation than any other freshman representative in Ohio legislative history, in his first year. Overall, Les Brown served three terms before leaving the legislature in 1981, just after he won the election, to care for his ailing mother. 
Les Brown still continued to serve people. He focused on social issues, created a youth career training program and held community meetings for the betterment of the society.
"If you don't program yourself, life will program you" 
Les Brown started off by talking about his own life, the hardships he faced, challenges he had to undertake and how he changed his life over. He said he has never been one to let adversity get in the way of pursuing his dreams. 
Despite being diagnosed with a learning disorder as a child, he became a radio personality, then a triple-term Ohio state representative and finally found his calling as one of the world's top motivational speakers. 
"I didn't grow up with advantages, but I took what I was given and used it to create greatness within myself and in my life." 

"Control your mind, control your destiny" 
Brown urged the OmegaPro Community to take control of their lives. It's all in the mind. One has to take a long and good look at their life, things they do, how they react and respond to situations, their relationships, and their physical, mental and emotional states. Once the analysis is done, one has to make note of where they want to be and what they should do. Brown calls it "mental-programming". 
By mental-programming, Brown means – say nothing negative, don't think negatively, weed out negative self-aspects, remove negative relationships, habits and emotions. He added, "We can't control our thoughts that come to our mind but can control the thoughts that we dwell upon".
"Success is not by surprise" 
Brown says, "Success is not by surprise. Success is by choice – personal choice. We have to make the decision to be successful and be willing to put in the work". 
"I decided to do what I love. My calling is to speak, my calling is to train speakers, to change lives. I decided consciously, I was going to find a way to do it." 
According to Les Brown, this is the one magic secret to live a happy life and achieve all that one wants. Success is one of the most desired outcomes by all humans. Whether it is a life project with a big impact or small plans, we are programmed to succeed and be happy. 
Les Brown considers OmegaPro to be the medium that propels people to success. He said, OmegaPro is the foundation that makes people the architects of their own future. OmegaPro is the place for people who want to fight mediocrity, live a larger life and serve a greater cause. 
It's time to rank up. 

Control your destiny. 

Live Life Victoriously.
About OmegaPro
OmegaPro is a global marketing leader with a massive education platform offering the best skill development training to empower the OmegaPro Community. With resources customized to perfection by the greatest legends of the respective industries, OmegaPro is a one-stop destination for accessing fundamental tools, special materials, dedicated coaches and once-in-a-lifetime experiences.
OmegaPro is on a mission to Break Barriers Through Education To Create Leaders Of Tomorrow. Through education, OmegaPro has become the home and benchmark of new opportunities that are always ahead of the curve and supported by an elaborate team dedicated to your ambition and your success.
OmegaPro houses an extensive array of relevant educational tools, renowned personnel and acclaimed resources as one of the most beloved and trusted learning platforms of its kind with a firm focus on the priceless mantra – Mentorship for the best can only be delivered by the best.
With our community's faith at the epicenter of OmegaPro's operations combined with over five decades of cumulative expertise acting as the perfect catalyst, we are here to deliver a first-class learning environment as we keep marching on.
Since our inception in 2019, OmegaPro now proudly has a massive community of over 2,500,000 active members and is growing by the blink of an eye as we scale greater heights every single day. And, we like to believe that this is only the very beginning of an incredible journey that awaits us and our community. Welcome to the revolution of tomorrow as we aim to orchestrate a better future. Visit us on: www.omegapro.network