OmegaPro Announces Diamond Trip With Eric Worre
October 5, 2022
By Team Business For Home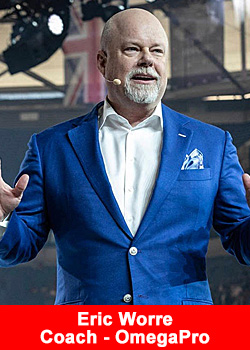 According to a OmegaPro press release:
"OmegaPro Announces Diamond Trip To Take Over Maldives For A Week Of Extravagance."
To honor the extreme hard work and dedication put forth by the OmegaPro Community's Diamond Rank achievers, OmegaPro has organized a luxurious Diamond Trip on the island of Maldives. 
To be headlined by Football legends, Bollywood superstars, OmegaPro's Official Strategic Coach Eric Worre & more, between November 2nd and 7th, this edition of the OmegaPro Diamond Trip is all set to be the biggest event in the history of Maldives. 
According to OmegaPro, in life, celebrating as a team, as a family and as a community is crucial for success and well-being. It helps build and deepen relationships. For starters, it naturally bonds people through a shared positive experience.
Secondly, this time where team members can talk and get to know one another can help develop their relationships which in turn will improve team functioning.

As people get to know one another on a more personal level, this will help them work together more effectively on a professional level. 
OmegaPro is a firm believer in dreaming big and finding ways to achieve it.
Although OmegaPro events are organized to honor and acknowledge the tireless work put in by the incomparable OmegaPro Community, another major or perhaps a more significant aspect, is to give people a glimpse of what lies ahead for them at OmegaPro – to urge them to embrace their destiny, see the life they could lead and the lifestyle they could live, if they dream and act on it.
OmegaPro's vision to
"Break Barriers Through Education, and Shape Leaders Of Tomorrow"
has now become a reality. OmegaPro continues to impact and influence people's lives through resources curated to perfection from the greatest success coaches, motivational speakers and Network Marketing experts.
As OmegaPro looks forward to impacting and transforming more lives globally, it also aspires to become a one-stop destination for accessing fundamental tools, special materials, dedicated coaches and once-in-a-lifetime experiences.
About OmegaPro
OmegaPro is a global marketing leader with a massive education platform offering the best skill development training to empower the OmegaPro Community. With resources customized to perfection by the greatest legends of the respective industries, OmegaPro is a one-stop destination for accessing fundamental tools, special materials, dedicated coaches and once-in-a-lifetime experiences.
OmegaPro is on a mission to Break Barriers Through Education To Create Leaders Of Tomorrow. Through education, OmegaPro has become the home and benchmark of new opportunities that are always ahead of the curve and supported by an elaborate team dedicated to your ambition and your success.
OmegaPro houses an extensive array of relevant educational tools, renowned personnel and acclaimed resources as one of the most beloved and trusted learning platforms of its kind with a firm focus on the priceless mantra – Mentorship for the best can only be delivered by the best. With our community's faith at the epicenter of OmegaPro's operations combined with over five decades of cumulative expertise acting as the perfect catalyst, we are here to deliver a first-class learning environment as we keep marching on.
Since our inception in 2019, OmegaPro now proudly has a massive community of over 2,500,000 active members and is growing by the blink of an eye as we scale greater heights every single day. And, we like to believe that this is only the very beginning of an incredible journey that awaits us and our community. Welcome to the revolution of tomorrow as we aim to orchestrate a better future. Visit us on : www.omegapro.network