Brian Heflin Achieves Royal Crown Ambassador Rank At The Happy Co.
November 7, 2022
By Team Business For Home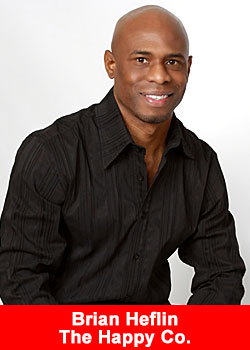 Brian Heflin knows the power of hard work. Raised by a single mother, Brian and his two sisters lived in a rough area of Los Angeles during his formative years. At age 6, he began going door to door collecting soda bottles to cash in for money.
"This was my way of helping my mother, by being the man of the house," he says. "I'm so appreciative that I had this upbringing, because it showed me from a young age that you can have anything if you work hard."
And while the family eventually moved to a better area, those formative lessons stuck with him.
After working throughout his school years, at age 19 Brian and a friend began a mobile window-tinting business in Southern California. By the time he was 21, Brian was earning more than $100,000 a year.
"But I was working sometimes 18 hours a day, and at the age of 30 I realized that if I didn't change, this was going to be my life,"
he says.
So he turned to network marketing to free up a little of his time. Success didn't come immediately, though.
"After three years and actually in debt from this industry, I met my mentor. I remember the day he told me: 'Brian, for things to change, you have to change.' For things to get better, I had to become better.

He told me if I wanted to earn more, I had to become more. He said the marketplace would pay me according to the value I provided the market and the value I provided to people's lives. His mentoring changed my life."
After more success, Brian began looking to semi-retire to the Dominican Republic,
"but I decided I wouldn't feel comfortable without leaving my mother and my two sisters in a better financial position."
So he joined The Happy Co. instead, with the goal of paying off his family's three mortgages by 2023.
Brian liked the leadership aspect of The Happy Co. and the simplicity of building the business. "Our products are redirect spending; people already have the money in their budgets," he explains. "The products have an immediate impact — most feel it from the first cup.
"We are a market disruptor like Amazon who didn't create shopping, they just made the experience better. Like Tesla who didn't create the first automobile, they just built a better one. We are disrupting the coffee and functional beverage industry, because we have a better version than what's currently in the marketplace,"
he adds.
As someone with lifelong experience in building businesses, Brian's advice:
"Treat your $250 dollar investment like it's $250,000, and treat your $500 investment like it's $500,000. If people would treat this business like they invested hundreds of thousands of dollars, then not showing up daily would be no option. Develop the million-dollar mindset!"
Brian's rise to Royal Crown Ambassador was celebrated at the recent Happy Co. Global Convention in Dallas. Furthermore, V. P. of Field Development, Taylor Worre recognized Brian as the Heart of Happy recipient for his unwavering commitment to The Happy Co. He has exhibited extraordinary leadership skills and has played a pivotal role with many of the Happy Co. Brand Partners.
It goes without saying that Brian has worked hard, but he is also able to enjoy a healthy work life balance. He is based in Puerto Rico and is able to operate his business from that tropical paradise. Brian is currently enjoying an extended vacation in Bali, Indonesia and is exceptionally grateful for the lifestyle that the network marketing industry has afforded him.
About The Happy Co.
The Happy Co., formerly Elepreneurs, launched in February 2021 with an established foundation of successful nootropic, functional beverage products that enhance mood, boost energy, enhance sleep, and make you look and feel like a younger person. 1
The Happy Co. starts with products but does not end there. We are a lifestyle and a dose of happy. For more information about The Happy Co. go here.
Recommended Distributors The Happy Co.