Bryan Robert Achieves Crown Ambassador Rank At iX Global
November 11, 2022
By Team Business For Home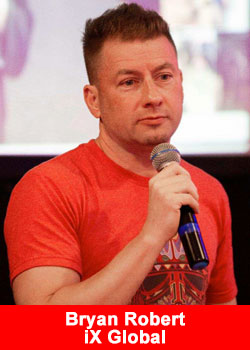 iX Global is pleased to announce that Bryan Robert has achieved the Crown Ambassador rank, elevating him to top ten status within the company.
Bryan Robert has been a professional in the direct selling industry for thirty years, having first achieved success as a teenager in the early 1990's. At that time Bryan helped twenty five of his friends under the age of twenty five earn a six figure income or more, and they were known throughout the direct selling world as the Bayou Boys.
Now thirty years later Bryan is one of the most well known and respected veterans of the space, and has leveraged his talents and experience to become a top earner with iX Global. To commemorate this achievement, Bryan sat down with the iX team and shared some thoughts and wisdom regarding the direct selling industry and how others can achieve success in today's modern marketplace.
When asked how the direct selling industry has changed since he began thirty years ago, Bryan had this to say,
"I would say the biggest change that I've seen is that the business has become more global; when I started it was very local and you worked mostly with your friends and family and people that were within driving distance of you.

Now with the advent of the internet and social media, network marketing and direct sales is global and you can build with people around the world from your house, which I never would have imagined could happen when I got started."
Bryan has been on the forefront of this global shift for the last twenty years, having built large organizations on most continents around the globe during that time. He has specifically focused on building in developing nations, understanding that those who can overcome the challenges inherent in working with these markets stand to reap large rewards for doing so.
Bryan then commented on what he sees for  the future of direct selling and network marketing,
"You're going to see network marketing continue to become more mainstream and see people around the world viewing it as a legitimate part time income opportunity.

The old stigmas are going to disappear because doing network marketing today is nothing like what we used to do, and it's going to be considered just as legitimate an opportunity as any other internet or gig type business out there, because it is."
Bryan has understandably acquired an immense amount of experience and knowledge about networking and direct selling as he has built his global businesses over the years, and as a result he began several years ago to consult part time with companies in the space. Over the last decade Bryan has become known around the industry as a talented consultant, and when asked what advice he gives most to the companies he works with he said:
"To me the most important thing I tell companies I consult for is to not forget the people who take the risk with you to build your success. It's easy once you are doing well to look at the reps who got you there and ask what have they done for you lately, and that is an absolute mistake; any company I see going this direction inevitably ends up having major problems.

I also tell them they need to get crystal clear on what their mission is and what they are trying to accomplish as a company, and to be very careful in making any changes that will affect the distributor base."
Finally Bryan wrapped up with a few words of wisdom for people starting their networking career today,
"The biggest piece of advice I can give to the brand new person getting started today is to take a long term approach to this business – look at it in terms of months and years, and not day to day.

At the same time, you need to take daily actions to be successful, so find out what those actions are from successful people in your organization and do those actions every single day."
About iX Global
 iX Global is an educational and self development fintech platform that works on the philosophy of learning and earning. You can subscribe to the courses to learn financial skills to implement for yourself, and also earn money through the referral bonus structure that the company has put in place for its Brand Ambassadors.
iX members also become a part of a community that works together towards each other's personal and financial goals. For more information, please visit www.ixglobal.us
Recommended Distributors iX Global