ByDzyne's Matt Garzón from Ecuador Achieves 1-Star President
November 7, 2022
By Nicole Dunkley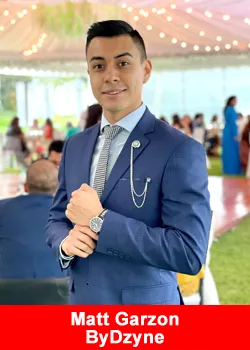 Wielding its dynamic muscle in the Latin American region yet again, ByDzyne continues to produce some of the industry's most promising stars and this week is illuminating new 1-Star President Matt Garzón from Ecuador. 
* A President generates over $200,000 in sales revenue during a half-a-month span. 
Matt, a former vehicle auctioneer with now almost five years of experience in network marketing, has intrinsically been motivated from an early age to not only transcend his life and be able to live it to the fullest potential but also carry a ravenous desire to see others around him succeed.
That hunger has led him to ByDzyne and hoping to capitalize on its abundance of opportunity, the Ecuadorian is confident that ByDzyne promises the most favorable outcome. 
"I chose this company because I´d never seen a concept of combining products and services, plus an excellent payment plan. I chose this company because my team and I can build real equity.

And I want to thank ByDzyne´s executive team, without a doubt. Their focus on people's well-being, hard work, and excellence make ByDzyne a real home for anyone who wants to win big,"
expressed a grateful Matt. 
Chad and Nattida Chong, ByDzyne's cofounders and members of that executive team, are delighted for their newest leader from South America, and cannot be more optimistic for the journey up ahead.
"Congratulations to Matt Garzón on becoming the company's latest 1-Star President! BD Nation celebrates you today and recognizes your effort, determination, and hard work in reaching this amazing milestone. '

Continue believing in yourself and your dreams and we know there'll be even more triumphs in your future!

We are so excited about what's happening in Ecuador and South America, and we know we are just at the beginning of something very special,"
declared the Chongs.  
ByDzyne's newest 1-Star President couldn't agree more. Matt is convinced that the people that have guided and supported him throughout his ByDzyne story have made all the difference and will continue to be what spearheads his drive to future accomplishments.   
"Yes, I work hard and personally utilize the law of concentration, but this achievement is also made up of incredible mentors who knew how to teach me what I needed and an extraordinary team that continues to be my entire inspiration,"
shared a passionate Matt. 
Not slowing anytime soon and already setting his sights on becoming a 3-Star President in the next few months and having at least 50 people on his team earn a very generous income, Matt is now more determined than ever. And like always, he's continuing to bet on himself.   
"I would like to point out that I do not come from a place where success was assured. I come from a family where there were not so many available economic resources.

But I'm a dreamer. And the dreamers who dream a possible dream are those who are willing to work to make it a reality. And I will continue to work, and continue to dream,"
shared Matt with a grin.  
* ByDzyne makes ZERO income guarantees. It takes hard work and dedication to make a substantial income. All results may vary. Between 07/01/2021 to 06/30/2022: The number of active Brand Ambassadors (BAs) who have not received any commissions, bonuses or overrides is 19,901 or 77.12% of such BAs. The median amount of commissions, bonuses and overrides received by all active BAs is $0.00. 77.12% of all active BAs have received, in the aggregate, less than or equal to this amount.   22.88% of all active BAs have received, in the aggregate, more than this amount. The average amount of commissions, bonuses and overrides that have been received
Recommended Distributors ByDzyne