Crowd1 Hosts A Momentous Event For Top Leaders
November 16, 2022
By Team Business For Home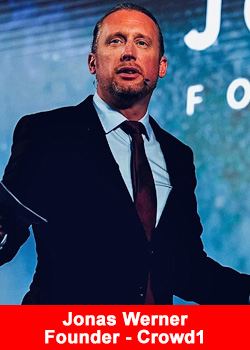 According to a Crowd1 press release:
Dubai played host to a gathering of celebrations, and a big reveal
What does the world's largest influencer marketing company do when it has reached in excess of 50 million members? Rest on its laurels?
When it's Crowd1, it becomes even bigger and even better, and unleashes even more opportunities for its Affiliates. And it did so in customary grand style, at a 2-day super launch event in Dubai, United Arab Emirates on 5 and 6 November.
Selected Top Leaders were invited to the Middle Eastern financial and crypto hub to not only see how far Crowd1 has come, but to marvel in its present status as leader in the field and, of course, bear full witness of its supercharged future.
Networking is, of course, the backbone of the industry and Top Leaders had the opportunity to mingle with their peers as they toured the rapidly expanding Dubai offices on Day 1.
The main office has added an exciting feature: a state-of-the-art green screen studio, which can be used for a myriad of exciting activities. Not content with only taking up two floors of their base at Arenco Tower, Crowd1 has also expanded to a third floor, and Affiliates were able to catch a sneak peek of what promises to be another professional space.
"This is the place to be. All the big companies in the industry are moving to the UAE – and we're already here. In front, as always"
said Crowd1 Founder, Jonas Eric Werner.
Crowd1 is renowned for its superior product offering, and Top Leaders were given the opportunity to meet and interact with the product founders from Metaversy, Miggster Plus, PLANET IX, and the newly retooled, useful education portal Mindoe. Then, it was on to an afternoon of vital training, product news and updates, and an earthshaking reveal.
Crowd1 has relaunched their iconic packages, and what was leading the world before, would now be dominating it. Named after the four elements, Earth, Air, Water, and Fire the new packages not only contained premium Crowd1 products, but also their very own, valuable Crowd1 NFTs.
The Top Leaders' world had just changed – and their enthusiasm at the news showed that they knew it.
The second day of The Next Generation event started with a celebration: Recognition of Top Leaders who have climbed the ranks. The sharing of successes is a mainstay of Crowd events, and new Directors, Presidents and Senior Presidents were deservedly fêted. The day, however, belonged to the new Crowd1 Elements packages – and the highly sought-after Crowd1 NFT.
The new packages are truly life-changing, and the rest of the training day was spent getting Top Leaders up to speed on how to use these best to their advantage. More exciting reveals abounded, with the news that a fabulous 4-year anniversary incentive trip to the tropical paradise of Thailand will take place in March 2023. In addition, the next Crowd1 event was announced: Dubai, February 2023.
What better way to end off such a momentous event, than an elegant celebration. Venus Beach Club hosted Crowd1, and Top Leaders and Management celebrated their past, current and future successes.
The last word belongs to Johan Westerdahl, ICT CEO:
"You are all now pioneers, and part of the Genesis Generation".
About Crowd1
Crowd1 is an established online social community and marketing company with its head office registered in Dubai, UAE, with a unique and empowering vision to unleash the opportunities provided by global marketing.
At Crowd1 we are proud to be democratising access to the next revolution in the digital space, online crowd marketing.
With an extensive and swiftly expanding community of passionate and highly motivated entrepreneurs, we aim to make Crowd1 the pre-eminent name in online marketing. For more information, please visit www.crowd1.com.