Argentina Achieves Its First 3 Diamond Ranks In The ZETA Group
January 21, 2023
By Team Business For Home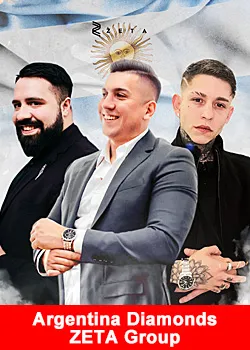 ZETA continues to conquer various countries around the world and now presents its first three diamonds in Argentina with Raul Crisorio, Joaquin Kapfer and Nicolas Dublanc, earning commissions of more than 40,000 USD per month.
This group of businessmen has managed to mark history and transform their success stories into motivation and determination benchmarks.
Raúl Crisorio, with a degree in Business Administration at only 29 years of age, discovered his true passions from a very young age thanks to the first two mentors who managed to inspire him, his parents.
"Everything you touch, you turn into gold",
was the motto that his mother always told him, who also introduced him to the passion for numbers. In addition, as a very young boy he had the opportunity to participate in meetings and business trips together to your father.
This administrator knew how to develop everything he saw, heard and learned, leading him in 2018 to be part of the history of network marketing, achieving the highest rank recorded up to that moment in his first company and creating a team of 1,000 active people every day. weeks on a sustained basis.
Crisorio's skills and attitudes allowed him to create a wealth in less than 4 years and live 100% of the investments that generate passive income. Currently, he found the best vehicle to continue growing and where he can further strengthen all the qualities that have made him a benchmark in Argentina.
"Today, thanks to Zeta, I discovered a truly incredible opportunity, because it allows me to combine what I am passionate about, investments and team building".
In addition, he not only found the place that encourages him to continue growing, he was also able to meet two partners in this industry who became his brothers, Joaquin Kapfer and Nicolas Dublanc, successful entrepreneurs who embarked on the path of this industry.
Kapfer, from a young age, transformed difficult personal and economic situations into the strength to become a person with determination and resilience.
One of the main virtues of this businessman is the power of attraction that teaches his entire team to fulfill their dreams, which he learned from his father,
"I was fortunate that my father has a brilliant mind and in my most dark he gave me his advice, his wisdom and read me books on the law of attraction. He always told me that the day I become aware and apply the universal laws, the world would be mine."
Every moment and lesson that Joaquin learned led him to find the success and quality of life that he always longed for,
"all my life with every decision and action I took, I prepared myself for network marketing."
All the preparation he has managed to obtain has led him to be a benchmark among people who want to make a real change in their lives and who want to enjoy real results
"my personal goal is to improve the lifestyle, mentality and skills of people so that they can reach new levels and elevate themselves, especially those people who have stopped dreaming big or believing that a great reality is possible for them."
As he learned, everything must come at the right time and when the student is ready, the right teacher arrives, together with Raúl and Nicolas, they met "La Leyenda" Allan Badilla and Laura Castro "La Patrona del Dinero".
"Not only were we fortunate to meet ZETA, we also have the opportunity to train as people, leaders and exploit our full potential. Today we had the opportunity to gather everything we have learned together with our mentors and carry out this result in just 30 days".
Complementing this successful team is Nicolás Dublanc, better known as Oso, he is a highly influential communicator, trainer, speaker and host with 5 years of experience in the network marketing industry, who has inspired thousands to find their own potential.
He has built teams with his presence and energy of growth and motivation, since as he says, "where I step, I conquer", and he is currently one of the most recognized speakers in the industry at the Spanish-speaking level, and has been summoned as host for large events.
Before becoming one of the benchmarks in the Network Marketing industry, he studied 7 years at the university and completed 4 different university degrees. This experience allowed him to define that
"although the educational system of the network teaches everything that the traditional educational system does not, it believes that everything is perfect and I was in the place where I had to learn what was going to be useful in the future. For example, studying radio and locution prepares me to have a better oratory."
In this industry he had the opportunity to redefine his future and since he learned about the first compensation plan he knew that this was the industry that would allow him to be financially free.