doTerra Distributor And Nurse Practitioner Fined For Making False COVID-19 claims
January 27, 2023
By Team Business For Home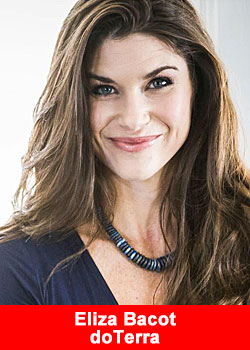 doTerra's Diamond leader and licensed nurse practitioner, Eliza Bacot has been penalized by a federal judge in response to a civil lawsuit brought by prosecutors under two consumer protection laws.
A USA federal judge on Monday ordered a Fulton County b(USA)  woman to pay $15,000 and submit to further sanctions in a settlement for allegedly making false claims by marketing essential oils and supplements as treatments for COVID-19.
Federal prosecutors said that during two Zoom webinars in January 2022, Eliza Bacot misled consumers by marketing several products from Utah-based multilevel marketing company doTerra as effective in preventing and treating COVID-19 and long-haul COVID-19, as well as counteracting side effects from COVID-19 vaccines.
The civil lawsuit was brought this month by the Department of Justice at the request of the Federal Trade Commission. Prosecutors say that Bacot violated two federal laws: the FTC Act, which prohibits deceptive business practices and false advertising, and the COVID-19 Consumer Protection Act, which specifically prohibits deceptive practices associated with COVID-19 for the duration of the federal government's public health emergency, which is currently set to expire in April.
Under a settlement that was jointly agreed upon by prosecutors and Bacot and approved by U.S. District Judge Amy Totenberg, Bacot is ordered to pay a civil penalty of $15,000 and share certain financial records for 10 years with the federal government.
The settlement states that Bacot — a licensed nurse practitioner who brands her business as The Organic South — neither admits nor denies any of the allegations of her alleged marketing. Attorneys for Bacot did not provide comment in response.
The lawsuit includes transcripts of Bacot's remarks during the January webinars, which were hosted by Bacot and other doTerra distributors who currently or previously worked as healthcare practitioners.
The transcripts show what prosecutors describe as false advertising, including the claim that certain doTerra products are able to prevent long-haul COVID-19.
"We always talk about Lifelong Vitality," Bacot is quoted as saying about a product.
"The reason why we talk about that is because there are cell repair components in the Alpha CRS. We also have extra turmeric in there. Omega fatty acids are extremely important for long haul and so that foundational piece cannot be laid aside. That person needs to either start or continue it if they have been on it."
Another excerpt indicated that Bacot invited participants to take screenshots of the slides in the presentation, but asked that they not share them on social media.
After the 2022 webinars, the nonprofit consumer watchdog organization Truth in Advertising submitted a complaint to the FTC about the webinars, which stated that
"such deceptive marketing tactics (especially by health care providers) can negatively impact consumers' economic well-being as they purchase snake oils in an attempt to protect and care for their friends and families as well as cause serious health consequences as consumers forego evidence-based medical care for doTerra products."
As first reported by Georgia Public Broadcasting
About doTERRA
doTERRA is an integrative health and wellness company and the world leader in the Global Aromatherapy and Essential Oils market. dōTERRA sources, tests, manufactures and distributes CPTG Certified Pure Tested Grade® essential oils and essential oil products to over seven million dōTERRA Wellness Advocates and customers.
Through industry leading responsible sourcing practices, dōTERRA maintains the highest levels of quality, purity and sustainability in partnership with local growers around the world through Co-Impact Sourcing®.
The dōTERRA Healing Hands offers resources and tools to global sourcing communities and charitable organizations for self-reliance, healthcare, education, sanitation, and the fight against human trafficking. Through the life-enhancing benefits of essential oils, dōTERRA is changing the world one drop, one person, one community at a time.