Industry Leader Ray Faltinsky Launches Beyond Slim
January 12, 2023
By Team Business For Home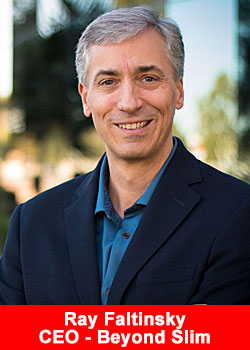 One could say the greatest motivation for making a noble purpose in life's work is the passion of a loved one's well-being. Living proof of this is Ray Faltinsky, the founder and CEO of Beyond Slim.
Ray is best known for creating a billion-dollar direct selling company in the wellness space and came out of retirement to bring a new vision to life, a full circle wellness product called ZipSlim.
With 25 years of experience in the industry, as well as creating and marketing over 100 different nutritional products throughout his career, he is still living up to his commitment to help others achieve better health.
His dedication came at a young age, after witnessing his mother make a full recovery from a crippling case of Osteoporosis using nutritional supplements. Seeing the impact of this, her miraculous recovery sparked his passion for natural wellness and the rest is history.
After dedicating 22 years to the wellness industry, he thought he was ready to enjoy retirement. However, the feeling didn't last long, as he knew his work wasn't done, yet.
Ray set his focus on this country's weight epidemic and partnered with one of the world's leading natural wellness practitioners, Mark Drucker, MD, the creator of ZipSlim. After years in the making, they launched the delicious blackberry lemonade drink, a product scientifically validated to help people become fitter, happier and healthier.
According to published clinical studies, ZipSlim has shown that when taken twice a day, its key ingredients can help with weight loss like no other product on the wellness market.
The product addresses "metabolic overload," a condition wherein one's metabolism is asleep, thus rendering the body to resist weight loss efforts. This happens because a metabolic master switch—an enzyme called AMPK—is turned off. In this state, the body stores more food as fat which a moderate diet and exercise will not budge.
With ZipSlim's Metabolic Activation Complex™, the "youth metabolism" gets rebooted and triples the weight loss when compared to dieting alone.* The product accomplishes the following:
Activates AMPK, the master metabolic switch. The body burns food for fuel instead of storing it as fat.
Balances healthy blood sugar levels to prevent a flood of fat-storing hormones following meals and snacks.
Controls cortisol cravings. Goodbye to the stress-induced desires that prompt one to reach for unhealthy foods.
Ray brought his decades of experience to this mission – to turn the tide on the weight crisis and help people become fitter, healthier and happier.
"ZipSlim is, by far, the single most important and effective dietary supplement I've ever been involved with,"
Ray shared enthusiastically. He calls ZipSlim a "full circle wellness product" because it doesn't just help with weight loss. Most people take ZipSlim even after achieving their weight goals because of the additional benefits, as well as addressing other health concerns.
Customer testimonials reveal they have experienced better sleep, sexual satisfaction, improved memory, mood enhancement, more energy, and better focus as a result of taking ZipSlim consistently.
They didn't stop with just a delicious drink. Beyond Slim also introduces the scientifically validated "9 Reboot Rituals," which, combined with ZipSlim, a highly nutritious diet and an exercise plan, will lead to a rapid physical transformation. It's a sustainable lifestyle that will help keep the weight off, unlike what happens with fad diets.
ZipSlim is not available in stores or through Amazon. The product is available only through "Influencers" and coaches through the company's one-of-a-kind Social Referral Marketing™ program.
*Fifty overweight people (BMI 28-36) using a key ingredient in ZipSlim®, along with a lower calorie diet (1350 calories for women/1850 calories for men), lost 30 pounds in just 13 weeks, compared to just 10 pounds for those following the lower calorie diet alone. Results may vary from person to person.
These statements have not been evaluated by the FDA. This product is not intended to diagnose, treat, cure or prevent any disease.
About Beyond Slim
At Beyond Slim, nothing is more important than our mission to help millions of people become Fitter, Healthier, and Happier. The science behind ZipSlim® speaks for itself, and the care that has been put into our Metabolic Reboot will help you build lasting, healthy habits.
When it came time to decide how best to take this mission to the world, we decided to put people first, innovating an entirely new model we call Social Referral Marketing™.
Find out more about Beyond Slim and its amazing product, ZipSlim at www.beyondslim.com
Recommended Distributors Beyond Slim