iX Global Holds Inaugural X-Node Summit In Salt Lake City
January 27, 2023
By Team Business For Home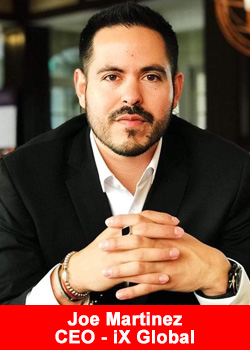 According to an iX Global press release:
iX Global held its inaugural X-Node Summit at the Hyatt Regency hotel in Salt Lake City, Utah. This event held special significance for two reasons: it was the first official iX Global company sponsored event held in the United States, and it was the first joint conference held between iX Global and their strategic partners DEBT Box.
While ostensibly intended for the US Brand Ambassador base, over 600 Brand Ambassadors and guests attended the event from around the world, with guests coming from as far as South America, Europe, and Asia to attend.
The event began with CEO and Founder of iX Global, Joseph Martinez sharing both his personal story and the story of the founding of iX Global. Joseph shared the personal tragedies of his youth where he lost all of the members of his family to tragic deaths, and how that drove him to enter the military where he found meaning and purpose.
As he left the military he then made the crucial decision to begin his network marketing career instead of taking lucrative jobs, offered to him by the government and private sector, due to his excellence in his military service.
He then transitioned to the founding of iX Global, showing photographic proof that he had less than $4000 to his name when he founded the company in May of 2020. He then celebrated the fact that iX Global achieved 206 million dollars in sales in 2022, and that he and the company will do whatever it takes to reach his stated goal of 500 million dollars in sales in 2023.
Jake Anderson, a member of the D.E.B.T. Council was the next to come on stage, and the majority of the conference from that point on focused on D.E.B.T. ecosystem education, projects, and future projections. While he spoke, he also brought up three other members of the D.E.B.T. Council – Jason Anderson, Schad Brannon, and Roy Nelson – in order to elaborate on different aspects of the presentation.
They first took the time to explain, in depth, how the D.E.B.T. ecosystem works, from the royalties model of business, that allows them to be the "Uber of commodities," to the nuances of the supply and demand based tokenomics of the different projects. They proudly stated that every coin created in the ecosystem is mined into existence regardless of project, and this is the key to the viability of the entire ecosystem.
Next they spoke about new payment rails that will be made available to their clients in the coming months that will allow simplified and streamlined movement of fiat currency to cryptocurrency, and back again, at any time.
They then gave updates on many of the commodities based projects, with the highlights being that the bauxite mines they located with their scanning technology in Ghana will allow over a hundred years of aluminum production, and that they currently receiving royalties on 17 oil drilling sites with approximately 200 under review, which affects both the Black Gold (BGLD) and Natural Gas (NATG) projects.
Next came the launch of two exciting new projects – BEV and BLOX. BEV is a project that is supported by royalties generated from the beverage distribution industry for smaller beverage distributors. BLOX is a project supported by royalties generated from fees on commercial real estate transactions.
The excitement continued with the announcement of the launch of more satellites by D.E.B.T. 's partners on the Explore project that will allow full 3D modeling of underground commodity deposits before an excavation, drilling, or mining takes place. This advancement is great for the environment and great for the ecosystem. You can find out more about all of these projects and initiatives by visiting www.thedebtbox.com.
About iX Global
iX Global is an educational and self development fintech platform that works on the philosophy of learning and earning. You can subscribe to the courses to learn financial skills to implement for yourself, and also earn money through the referral bonus structure that the company has put in place for its Brand Ambassadors.
iX members also become a part of a community that works together towards each other's personal and financial goals. For more information, please visit www.ixglobal.us.
Recommended Distributors iX Global