Network Marketing Veterans Announce The Launch Of Their New Company
January 27, 2023
By Team Business For Home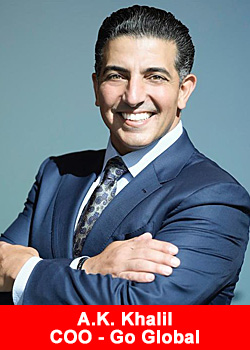 According to a Go Global Press Release:
Renowned Network Marketing veterans Nader Poordeljoo and A.K. Khalil announce the launch of their new joint venture – GO Global.
"What would life be if we had no courage to attempt anything?"
– Vincent Van Gogh.
Nader Poordeljoo and A.K. Khalil have joined hands to create a world-class premium online education platform with a vision to help everyone become the best versions of themselves.
"Knowledge is power. Information is intelligence. Education is the premise of progress."
– Kofi Annan.
GO Global's narrative is that education holds the power to shape the world. The organization believes that the secret to living a life of excellence is sheerly a matter of education.
It holds the key to success in the modern era. It is imperative to learn constantly to keep up with the advances being made in the technological spectrum and to stay ahead in the game.
Besides the skills one gains in a traditional college or university, the need to keep upgrading skills through education is vital. It is essential to survive in the dynamically snowballing world.
Without the necessary skills, it is not possible to quarterback a successful endeavor in pursuit of passion and purpose that demands one to always bring their A-game.
Beginning of a new era
The GO Global platform is set to have a massive pre-launch event on February 1, 2023. We will see the rising of true leaders who will spearhead positive changes and make decisions for the betterment of the world.
With this event, GO Global is aiming to have the largest pre-launch event in the history of network marketing.
Reforming education
GO Global is a robust learning platform offering on-demand, immersive, and cohort-based education.
Filled with personalized learning and actionable learner insights, GO Global will offer unlimited access to innumerable courses across tech, business, leadership, personal development and wellness.
Not only that, the GO Global platform is also slated to bring in proven industry giants and thought-provoking motivational speakers regularly to help people navigate their journey to success. Webinars, seminars, live training, in-person workshops and more await the community.
People will also have the chance to experience one-on-one sessions with business tycoons.
GO Global will serve as the bridge between people and their dreams. Through GO Global's education platform, we will help people Learn. Dream. Believe and Achieve!
GO Global is all set to Inspire people with impact and lead through education.
About GO
GO is an educational platform that provides the best education for professional growth to empower the world. GO aims to empower individuals to acquire the skills and knowledge they need to succeed in life. GO is a one-stop access to the world's top-notch self-development courses expertly crafted by the best motivational coaches, and the top leaders of the respective sectors.
The mission of GO is to develop future leaders by providing access to high-quality education and breaking down barriers that may prevent individuals from achieving their full potential. Unleashing the potential within individuals and communities through personalized resources and support, we strive to arm them with the knowledge and tools necessary to craft their own destiny and make a positive impact on society and the world at large. To know more, visit us at www.goglobal.network
Recommended Distributors Go Global