Network Marketing Industry Veteran Donna Valdes Joins iX Global 
February 3, 2023
By Team Business For Home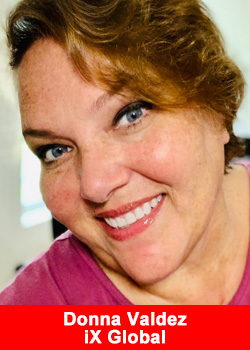 Donna Valdes, a highly successful and respected professional in the multi-level marketing industry for over 25 years, is joining iX Global as a new distributor.
Donna's resume includes experience on both the corporate side, having held numerous Executive and C level positions within the industry, as well as on the sales side as a top producer in the field for various leading companies. She is no stranger to the industry, which is leaving many speculating about why Valdes chose iX Global and more importantly, why now? 
 "That's a simple question with a very straightforward answer. My purpose in life is to make an impact with integrity. I was immediately impressed with the CEO of iX Global and felt his vision aligned with my purpose. It's truly a match made in heaven."
Prior to rising to the top of the corporate world, iX Global CEO Joseph Martinez served as a United States Marine, having experienced multiple deployments. Today, this self-described family man is leading an international team of thousands spanning 10 countries and counting, with a goal to impact lives through a revolutionary opportunity that emphasizes transformation and personal growth. 
 iX Global is the fastest growing self-betterment platform that focuses on lifelong learning and leverages today's most addictive trends such as health and fitness, spirituality, career, love and social.
Most interestingly, however, is their foothold in the crypto market – undeniably one of the most intriguing and exciting trends whose time has certainly come.
In fact, iX Global has an exclusive agreement as the marketing wholesale channel for The D.E.B.T. Box – a product that positions people with purchasing power to earn daily rewards powered by crypto while being backed by various commodity-based projects, all with a positive humanitarian focus.  
"It's a win-win-win all around. The more I learned, the more impressed I was at the overall business model, because I recognized the true potential iX Global was offering me and those I bring to the company, and I couldn't ignore it."
Valdes said.
According to Valdes, iX Global is a leveraged business model that positions individuals to earn daily rewards, without enrolling a customer or building a business. And for those that do want to partner and build a business?
"The compensation plan is incredibly generous, but more importantly it's simple and incorporates a guaranteed weekly pay at your rank. That gives distributors stability.

Customers are making money, the distributors are making money, the projects are making money, money is making money. In my decades experience in this industry, I've never seen anything like this before. It's a cutting-edge approach, forward thinking and innovative. I'm excited, to once again, build a team to the top." 
 iX Global continues to attract top leadership and is gaining momentum. They have over 100 distributors placed in the Top Earners list worldwide from BusinessForHome.org (including the number 1 spot for all distributors) and their goal is to finish 2023 strong with over $500 million in sales. According to the company, Valdes will be a key player in helping the company not only meet but exceed those goals.  
"Donna is a fantastic addition to our field and I'm excited to see what she and her team can accomplish. Her experience, her leadership, and her insight will only better iX Global as a whole, and I'm grateful she chose us as her home." 
Said Joe Martinez CEO iX Global
About iX Global
iX Global is an educational and self development fintech platform that works on the philosophy of learning and earning. You can subscribe to the courses to learn financial skills to implement for yourself, and also earn money through the referral bonus structure that the company has put in place for its Brand Ambassadors.
iX members also become a part of a community that works together towards each other's personal and financial goals. For more information, please visit www.ixglobal.us.
Recommended Distributors iX Global