Network Marketing Professional Sarah Johnson Joins Beyond Slim
February 28, 2023
By Team Business For Home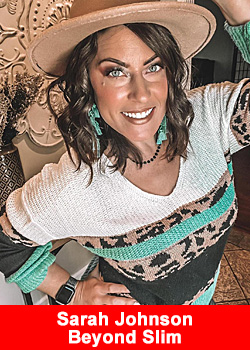 Beyond Slim is Dream Come true for Direct Sales Veteran Sarah Johnson.
After almost a decade in the direct selling industry, previous mid-level leader Sarah Johnson has finally struck gold by becoming a top ranked coach at Beyond Slim®.
As the tides of direct selling are changing, one thing has become very apparent; this industry can't just serve the top 10% anymore, it has to serve everyone. Sarah is a true, grass-roots success story showing what is possible when the right person and the right opportunity meet, and Beyond Slim is excited this pair came together when they did.
When Sarah joined Beyond Slim, she started from the ground floor, without a team of her own, and in just six months, built a team that reached an impressive 7 figures in sales and thousands of new customers.
These kinds of numbers don't just happen by chance and the proof is in the pudding. Or, in this case should we say, the proof is in the blackberry lemonade?
With Sarah's drive and passion, and the help of Beyond Slim's incredible wellness and weight loss product ZipSlim, Sarah and her team were able to reach this monumental achievement in a matter of months.
Sarah said that she was like so many others in the industry, tired of being let down by previous companies, and as a result was a little skeptical when she heard about the opportunity with Beyond Slim. She had actually stepped away from the direct sales industry due to the burnout she experienced.
But after learning just how different Beyond Slim is, with no monthly quotas to hit, no buying product to level up, and that everyone is rewarded no matter their rank, something resonated with her. She knew she had to at least try the product and she is certainly glad she did. After trying the product consistently for weeks, she was hooked.
She loved it not only for the weight loss she experienced, but for all the other incredible benefits she noticed. Sarah said,
"I love how ZipSlim makes me feel. My mood is lifted, my aching muscles aren't as bad, and I have lost 23 lbs."
Since the Beyond Slim model was designed without all the bad MLM bits that doesn't serve the 90% who are part-timers, it makes this structure an amazing opportunity that stands out from the crowd. Sarah appreciates that this model isn't about getting to the top but that it is centered around the product itself.
At Beyond Slim, Sarah feels like she is not treated like just a "number" but instead like a partner. Sarah said,
"We are the shift in direct sales! I love the systems we have in place and how easy it is to succeed here."
Beyond Slim has worked hard to get those systems in place by providing a cutting-edge app, support groups and consistent communication because they want everyone to have the tools and support to succeed.
Sarah's recent accomplishment is nothing short of amazing, demonstrating what happens when resilience and passion come together. Beyond Slim loves recognizing leaders like Sarah, proving just what is possible with Beyond Slim.
About Beyond Slim
At Beyond Slim, nothing is more important than our mission to help millions of people become Fitter, Healthier, and Happier. The science behind ZipSlim® speaks for itself, and the care that has been put into our Metabolic Reboot will help you build lasting, healthy habits.
When it came time to decide how best to take this mission to the world, we decided to put people first, innovating an entirely new model we call Social Referral Marketing™. Find out more about Beyond Slim and its amazing product, ZipSlim at www.beyondslim.com
Recommended Distributors Beyond Slim