ByDzyne's Jonathan Fuentes from Ecuador Achieves 1-Star President
March 2, 2023
By Nicole Dunkley
Latin America has continued its grip into 2023 as one of the central hubs of network marketing, and ByDzyne has yet another leader emerging from the promising region with the arrival of new 1-Star President Jonathan Fuentes from Ecuador.     
* A President generates over $200,000 in sales revenue during a half-a-month span. 
Jonathan, a 29-year-old entrepreneur from Quito, Ecuador, has seven invaluable years in the industry, with his two recent ones at ByDzyne.
He is quick to acknowledge, however, that nothing has ever been like the treasure he's uncovered at his latest company, and that gives him tremendous goosebumps for the potential that is alive today.   
"In the many years that I have been in this industry, it is the first time that I have seen a company that unites all the concepts that have formed thousands of successful entrepreneurs around the world: wellness, travel, and digital business!

And having it all in ByDzyne makes it a vehicle that expands the possibilities of success. In addition, the company has a fair payment plan that works for the people, by rewarding Brand Ambassadors for their work done.

For that reason, I appreciate our executive team's dedication, commitment, and example that they have shown to each of the people who belong to and trust ByDzyne.

They have my commitment to represent the brand and expand it with the values and principles of abundance that I constantly learn in their mentoring,"
expressed an extremely grateful Jonathan. 
Chad and Nattida Chong, ByDzyne's cofounders, applaud leaders like Jonathan that are committed to being an ambassador for all that ByDzyne represents and believe it's that type of attitude that will propel the company to its highest heights this year. 
"Congratulations to Jonathan Fuentes on hitting the 1-Star President rank! BD nation celebrates you today and all the hard work and perseverance you've taken to accomplish your goals.

Thank you for wanting to represent this company well, and being a role model for what is needed to reach your dreams, help others, and catapult ByDzyne to the fastest-growing MLM company out there,"
declared the Chongs. 
For Jonathan, none of this would have been possible without his mentor, Crown Marcell Rodríguez. ByDzyne's newest 1-Star President acknowledges that while he's put in the right formula of consistency and action in his daily work, Marcell has been there every step of the way—through growth, challenges, ups-and-downs, and is much more than a business partner but really a true friend. 
With the support of his Crown and fellow Ecuadorian leaders, Jonathan is now realigning his focus to the next 90 days and devising a clear plan, fixed goal, and continued work ethic to achieve even more for himself and those around him. 
"In all this time in the industry I have seen people give up along the way, and one of the things that motivate me the most is to show the entrepreneurs who join my team that if you are consistent in your work and have clear goals, your result will be a direct outcome of your dedication.

So, if you want to live an extraordinary life you cannot give up on any challenge, especially the first one. So, with that being said, by the end of 2023 my goal is to finish as a ByDzyne Crown, working with teams in over five countries and have at least 10 people in my team hit the rank of President,"
shared a motivated Jonathan.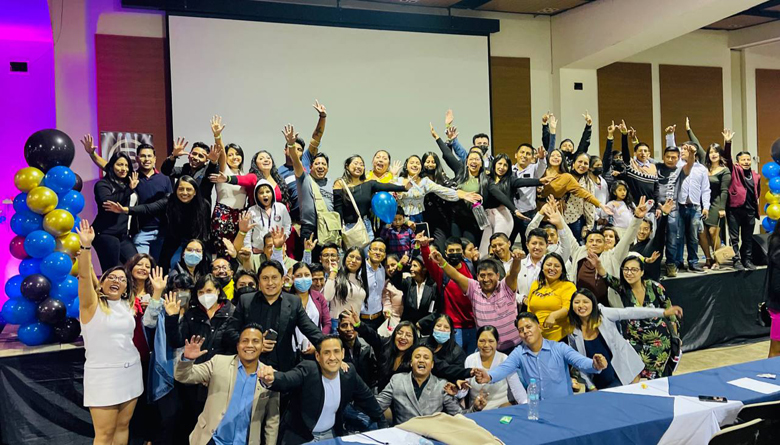 * ByDzyne makes ZERO income guarantees. It takes hard work and dedication to make a substantial income. All results may vary. Between 07/01/2021 to 06/30/2022: The number of active Brand Ambassadors (BAs) who have not received any commissions, bonuses or overrides is 19,901 or 77.12% of such BAs. The median amount of commissions, bonuses and overrides received by all active BAs is $0.00. 77.12% of all active BAs have received, in the aggregate, less than or equal to this amount.   22.88% of all active BAs have received, in the aggregate, more than this amount. The average amount of commissions, bonuses and overrides that have been received.
Recommended Distributors ByDzyne