Beyond Slim Founder Ray Faltinsky Interview
April 29, 2023
By Team Business For Home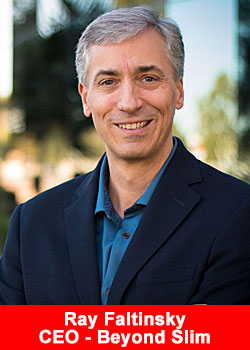 Social Referral Marketing® company Beyond Slim® and its flagship full-circle wellness product ZipSlim®, have taken the direct selling industry by storm in the last 8 months.
With a compounding growth rate of over 50% a month since September of 2022, Beyond Slim is one of the fastest growing companies in direct selling today. 
We sat down with Beyond Slim Founder and CEO Ray Faltinsky to find out why the record growth is happening.
Congratulations on your success!  Why the big growth in the last 8 months?
Ray Faltinsky:  "fast growth always starts with an incredible product, and our hero product ZipSlim is resonating tremendously with consumers all across the U.S. because it tastes incredibly delicious and offers outstanding overall health benefits.  We've covered ZipSlim in detail in "Business For Home" before.
From a business standpoint, I love the direct selling channel, I felt there was a big void.  Ninety percent of people who come into the industry are looking to make an extra $200-$500 a month on a part-time basis.
We couldn't find a company out there that adequately rewarded both the part-time and full-time person. We felt that if we created a compensation plan that rewarded both, it would be creating something that was really unique to the industry.
So what did you do?
We created a trademarked Social Referral Marketing® compensation plan that really rewards people for just bringing in customers.  They don't have to know a single thing about the compensation plan or recruiting other Coaches.
All the complications are gone.  All they need to know is that with our Customer Introduction Commission (CIC), they earn 50% of the Product Points on the orders of all of their customers for their first 2 months.
Our average order is about 100 Product Points, so our Coaches earn about $50 every time that customer orders in their first 2 months.
And we pay the CIC every 3 days, so they don't have to wait until the 15th of the following month to get that paid.  Plus, any Coach who has just 2 personally enrolled customers, gets their product for free each month!  That's up to $200 of free product.
These 3 benefits have never been available all together and so achievable.  It has created an enrolling frenzy unlike anything I've ever seen in my 25 years in the space.  We are getting 40X more new enrollments each month than we were 8 months ago!
We are bringing in about 10 customers for every one Coach who joins.  Those $50 bonuses really begin to add up and it's the highest part of our commission payout.
What made you think this would be well received by leaders?
We know that the top 10% of leaders all want to build a solid, long-term business with excellent residual income.  What the really smart leaders recognize is that if you have a fair system for rewarding the 90% who are part-time, then they will be happy.
If your organization contains lots of happy part-time Coaches, then our top leaders will have a great business with long term success and very solid residual income. Everyone benefits!  That's why we're attracting so many dynamic leaders right now.
Where is Beyond Slim going from here?
Our ultimate mission is to help millions of people become fitter, healthier and happier.  We are focused on that like a laser beam.
I'm thrilled with our progress, but we've only scratched the surface of where we will be in 5 years.  We're building this business to last a lifetime.
About Beyond Slim
At Beyond Slim, nothing is more important than our mission to help millions of people become Fitter, Healthier, and Happier. The science behind ZipSlim® speaks for itself, and the care that has been put into our Metabolic Reboot will help you build lasting, healthy habits.
When it came time to decide how best to take this mission to the world, we decided to put people first, innovating an entirely new model we call Social Referral Marketing™. Find out more about Beyond Slim and its amazing product, ZipSlim at www.beyondslim.com
Recommended Distributors Beyond Slim