ByDzyne Welcomes Industry Icon Juan Carlos Garduño Robles
April 3, 2023
By Nicole Dunkley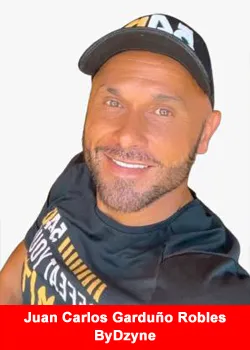 In a year ByDzyne has dedicated to exponential growth, the company is forging together one of the industry's most daunting direct sales lineups with the colossal announcement highlighting the imminent arrival of multi-level marketing superstar Juan Carlos Garduño Robles.
Juan Carlos, a savvy 47-year-old entrepreneur from Mexico City, Mexico, with over 15 years of experience in network marketing and the fitness and nutrition world, is renowned worldwide for his charisma, natural gifts in leadership and strategy, and global influence. 
During his tenure in previous companies, the Mexican leader has held some of the most prestigious titles, including Top Income Earner and the Highest Ranked in the Company, which has also led him to numerous prominent international speaking engagements.  
ByDzyne's executive team is captivated and gushed in excitement with their new superstar, and believe the future looks brighter than ever. 
"We are so excited to welcome Juan Carlos Garduño Robles to ByDzyne!

We have known Juan Carlos for a while and we believe he's bringing the right attitude, knowledge, and leadership to ByDzyne and we cannot wait to see what he produces here.

His experience speaks for itself and we are so confident that he will be a part of something very special in 2023 and beyond. So, get ready BD Nation because some amazing things are on the horizon here at ByDzyne,"
expressed a jubilant Chad and Nattida Chong, ByDzyne's cofounders.  
BD Nation won't have to wait too long. Deeply motivated to help transform people's lives when he first joined network marketing, and seeing the undeniable positive impact the profession has had on his life, almost two decades later and Juan Carlos remains as driven as ever.
The industry vet simply wanted to find an opportunity that fashioned him the widest net for success, and for Juan Carlos, no other company comes even close. 
"I have been waiting for an opportunity like ByDzyne!

I wanted to find a place with the right culture, ecosystem, services, mission, and corporate team, and I have found that here.

I also believe in the leadership and integrity of the owners and have never seen a company that offers the best of the digital world along with some amazing physical products.

I am so thankful for the entire executive team for having created this opportunity that can really help people, especially those with LATAM roots,"
shared a passionate Juan Carlos. 
Latin America has been one of the company's most successful business ventures.
With the utilization of some of the world's most exclusive and sought-after products and services in Training, Travel, and Total Wellness, the company is currently flourishing in a vast majority of Latin American nations including Colombia, Ecuador, Mexico, Costa Rica, Venezuela, and the Latin American communities in the United States of America. 
And with Juan Carlos now on board, it may be a foregone conclusion that ByDzyne will simply be unstoppable in the Americas region.
Regardless of location or person though, for ByDzyne's newest addition who says he's already experiencing his best life as a happy husband, father to two beautiful girls, and very successful entrepreneur, the work begins now. Fortunately for BD nation, he has his mind set on making a remarkably unforgettable first impression.
"I am so proud and honored to be a part of the ByDzyne family and to be able to work with some familiar faces like the Puranaputras, Chongs, Samer and Paula.

With their guidance, during my time here, I want to help at least 1,000 families make the type of money that can change their lives,"
expressed a motivated Juan Carlos. 
* ByDzyne makes ZERO income guarantees. It takes hard work and dedication to make a substantial income. All results may vary. Between 07/01/2021 to 06/30/2022: The number of active Brand Ambassadors (BAs) who have not received any commissions, bonuses or overrides is 19,901 or 77.12% of such BAs. The median amount of commissions, bonuses and overrides received by all active BAs is $0.00. 77.12% of all active BAs have received, in the aggregate, less than or equal to this amount.   22.88% of all active BAs have received, in the aggregate, more than this amount. The average amount of commissions, bonuses and overrides that have been received,
Recommended Distributors ByDzyne