iX Global Unites Latam Leadership At Lima Summit Event
April 11, 2023
By Team Business For Home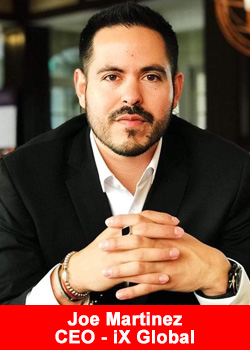 On April 2nd of this year iX Global leaders held their first Latin American event at the Westin Hotel in the San Isidro region of Lima, Peru.
This event was put on by top leaders in the company, and supported by the iX Global corporate team represented by President Paul Barlow and Chief Relationship Officer Luke Epps.
The meeting focused equally on the two powerhouse services that drive iX Global's growth – financial education and commodity backed cryptocurrency projects. Leaders and guests participated from countries throughout Latin America, the United States, and Europe, with over 600 Brand Ambassadors and guests attending the event from around the world.
The event began with iX Global trading experts such as Eduardo Ibarcena and Kenny Tupayachi elaborating on the financial education aspect of the iX Global platform, with explanations and training on how to engage with financial markets responsibly, along with a live demonstration of how binary options work.
Several guests were invited to the stage to try their hand at choosing binary options, and several gifts and awards were given to the participants.
Once the financial education aspect of the iX Global platform was thoroughly discussed, iX Global Crown Ambassador Travis Flaherty was the next to come on stage, and the majority of the conference from that point on focused on iX Global's commodity backed cryptocurrency partner and their ecosystem, education, and projects.
At first Travis discussed the state of the world economy today and the need to find innovative ways to store and increase value in an ever changing economic landscape. Travis then did an incredible job of explaining the long term value of the commodity backed cryptocurrency projects, encouraging all participants to focus on the value created over time and not day to day price fluctuations.
After Travis iX Global Ambassador Chris Lengle then came on stage to give a brief presentation of the iX Global opportunity and compensation plan. He focused on the fact that the iX Global compensation plan may allow brand new participants to earn commissions both to cover their monthly subscription and to earn up to $500 per month rapidly, for those who are willing to put in the time and effort while following their leader's system.
After Chris' explanation the conference was able to celebrate the accomplishments of their top leaders over the last year, with key leaders receiving novelty checks on stage to raucous rounds of applause.
Finally the event ended with iX President Paul Barlow and Chief Relationship Officer Luke Epps making some exciting announcements about upcoming products and services, as well as raffling off several more prizes. They then invited iX Global Elite Ambassador Oscar Arraya to come on stage and close out what had been an amazing event for everyone involved.
About iX Global
iX Global is an educational and self development fintech platform that works on the philosophy of learning and earning. You can subscribe to the courses to learn financial skills to implement for yourself, and also earn money through the referral bonus structure that the company has put in place for its Brand Ambassadors.
iX members also become a part of a community that works together towards each other's personal and financial goals. For more information, please visit www.ixglobal.us.
Recommended Distributors iX Global