Network Marketing Industry Leader Jen Lafleur Joins QuiAri
April 29, 2023
By Nicole Dunkley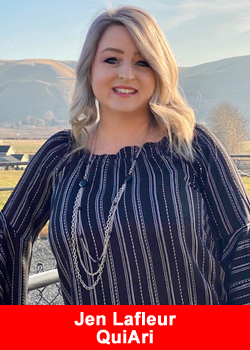 Ever since she was a child, QuiAri Shooting Star Promoter, Jen LaFleur's life has revolved around horses.
She grew up on a horse farm – the very one where she still lives today with her husband and children. Jen's family share her passion for horseback riding and have even taken it to the next level.
They travel to rodeos across their home state of Washington. How does she have time to take care of the horses, travel to rodeos, and pay the bills?
Through Network Marketing.  About 11 years ago, she turned to Network Marketing because it was an opportunity to work remotely and earn extra income, but it turned into something more.
She began changing lives through the nutritious vitamins and supplements she was promoting. Now it's not just horses she's helping, it's also people. Jen recently joined QuiAri and is very excited about the products and opportunity.
QuiAri is one of the only companies in the world with products featuring the new #1 superfruit, the Maqui Berry, and the first to introduce it to the global marketplace. Jen takes the products daily and loves the way she looks and feels.
Plus, QuiAri is the only company in the industry that pays Promoters 5 minutes after every sale worldwide. She's off to a very fast start at QuiAri, which is good because she has big dreams that only QuiAri can fulfill. 
"Before Direct Sales, I was a licensed esthetician and ran a skincare salon. I also had a side hustle – Personal Training. Now, 11 years later, it all feels like a blur. I was busy all of the time with work, raising my kids, and making sure the horses were taken care of.

It took me some time to discover Network Marketing, but when I did it was life changing. My success has helped me be there for my family, pay for traveling to rodeos, and give my horses the care and attention they deserve.

I had heard of QuiAri from multiple friends that were posting on social media about getting commissions paid in just 5 minutes.

I'd never heard of any company paying so quickly, so I started asking questions. The answers helped me realize why there was so much hype around this company: Great Compensation Plan, proprietary products, and an opportunity to build in over 111 countries worldwide.

It's no secret that QuiAri has momentum unlike any other company in the industry. This seemed like the perfect time to join. I didn't want to miss out on the chance to help people looking for better health and an opportunity to earn extra income.

We're living in a time where many people around the world need more than one income stream to help pay their bills,"
said QuiAri Shooting Star Promoter, Jen Lafleur.
QuiAri's Founder & CEO, Bob Reina, and his Executive Team with over 400+ years of combined MLM experience have cut no corners in building what many Network Industry Leaders are calling the biggest and fastest-growing opportunity in the world today.
It all started with Bob's dream to help others improve their health and a collaboration with the #1 Maqui Berry Scientist, Dr. Juan Hancke. Juan is also QuiAri's Scientific Advisor and an expert on the health benefits of Maqui, the World's New #1 Superfruit, with antioxidant levels 10x times higher than previously known superfruits like Acai, Mangosteen, and Noni.
Jen believes that having a strong, educated, and 100% dedicated Leadership Team with big-picture thinking and outstanding support for Promoters in the Field is the reason Promoters and Customers are flocking to QuiAri. 
"Bob's passion for helping others is inspiring. Ask any Promoter that knows him – he would move mountains to help us reach our dreams. Bob is an extremely generous person and a hard worker.

Everything we need is provided – from Opportunity Presentations and Videos to training guides and world-class support – and the quality is a hundred times better than any other company.

Knowing Bob and the Executive Team has Operations covered gives you sense of security that's comforting. It helps us stay focused on our work instead of worrying what's happening behind the scenes,"
said Jen Lafleur.     
Jen continues on to say that QuiAri has attracted a higher caliber of talent as a result of having such highly experienced leaders.
"We have some very impressive and successful industry icons on the Team. If you want to learn from the best, this is the place to be.

QuiAri is growing at a speed I have never seen before in my 11 years in this industry. Once our new Anti-Aging Supplement Gel, QuiAri Prime is released, you're going to see a major shift in momentum.

Those that already joined QuiAri will be further along their way to the top and those that waited to join are going have a much longer journey,"
said Jen Lafleur.
Prime is currently being prepared for its global launch, but the excitement and anticipation behind QuiAri's new anti-aging product is generating buzz throughout the industry.
Prime will come in a convenient "rip and sip" packet and contains Maqui Berry, the world's new #1 Superfruit, as well as the company's proprietary MaquiX® extract, which boosts the antioxidant power of Maqui 10 times.
However, everyone is most excited about QuiAri's new YouthX Blend. YouthX Blend is a delicious mixture of scientifically proven, proprietary ingredients chosen specifically for their highly potent anti-aging antioxidant levels, nutritional profile, and tantalizing taste. (S.O.D, Resveratrol, and Pterostilbene) 
In the meantime, QuiAri's flagship products, Shake and Energy, are making a significant impact on the health of people worldwide. Countless testimonials have praised QuiAri for their delicious taste and long-lasting benefits. Even Jen has noticed a big improvement in the way she looks and feels since taking QuiAri.
"I noticed right away that I felt better and got a better night's sleep. Overall, I feel a lot healthier and can keep up with my kids.

The shakes are delicious – it's kind of like drinking rich, smooth chocolate ice cream. For the vanilla, it's like liquid birthday cake batter. I've tasted a lot of shakes in this industry.

QuiAri Shake has the best texture and flavor I've ever tried. The Energy lasts – no jitters or crashes that you usually get from other supplements. I'm loving it,"
said Jen Lafleur.
Every time Jen (or someone on her team) refers QuiAri Products and makes a sale, she gets paid in 5 minutes – an industry-first. QuiAri's generous Compensation Plan is bringing Promoters a once-in-a-lifetime opportunity for quick growth.
Jen believes that in the next 5 years, QuiAri will become one of the largest Network Marketing companies in the world. She encourages her Team to keep dreaming bigger, as QuiAri is on its way to becoming a household name.
"I'm on the path to achieving my dreams with QuiAri. I would love to have an Equestrian Community in the southern United States, where it's warmer, so I could ride my horses during the summer and winter months.

I'd also like to donate more to help animal rescues. It takes hard work, but I'm willing to do whatever it takes for my family to live the best life possible,"
stated Jen Lafleur.                                                                        
To learn more about QuiAri, their products, and the opportunity to become a Promoter, visit https://quiari.com/en, or follow them on social media @QuiAriOfficial.
About QuiAri
QuiAri is the #1 health and weight loss movement in the world today. Featuring exclusive, breakthrough products (QuiAri Shake and QuiAri Energy) featuring the world's new #1 superfruit, the Maqui Berry, people everywhere are losing weight, boosting their energy levels, and improving their health. What started as an idea has now become a worldwide phenomenon, gaining a passionate following in over 100 countries. But that's not all! We boast an exciting opportunity to promote QuiAri products and earn commissions within 5 minutes after each sale through industry-first, state-of-the-art payment technology. Combining unrivaled products with the fastest payout, the fastest cycling binary, and one of the highest-paying compensation plans in the industry, there's no doubt QuiAri is helping people live healthier, happier lives. To learn more, please visit quiari.com.
These statements have not been evaluated by the Food and Drug Administration. These products are not intended to diagnose, treat, cure, or prevent any disease.
Recommended Distributors QuiAri