QuiAri Expands To Malaysia, Receives Corporate Registration
April 1, 2023
By Nicole Dunkley
QuiAri Founder & CEO, Bob Reina, often tells Promoters, "Big dreams require a big opportunity." Right now, there is no bigger opportunity in the industry than at QuiAri.
Less than 2 weeks ago, Bob announced global expansion into UAE, including a new, local distribution center. This week, he double-downs with even more exciting news – pre-launch in Malaysia.
QuiAri has received its Corporate Registration certificate at record speed, which is quite an accomplishment for QuiAri or any global brand.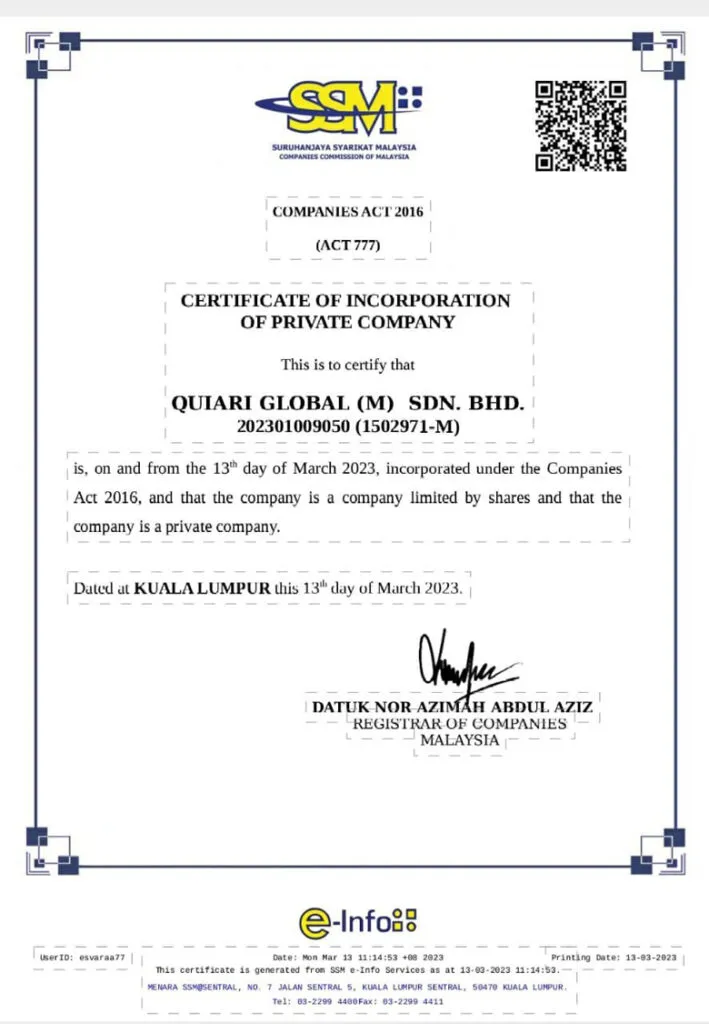 "QuiAri is already open for business in over 100 countries throughout the world, and I'm especially excited about expanding into Malaysia.
It could very well be one of our hottest markets in the region. Their economy rose 8.7% in 2022 and is expected to grow another 4 to 5% by the end of 2023.
What I'm really looking forward to is getting into Malaysia and changing lives. They have 32 million people that all need help both physically and financially,"
said QuiAri Founder & CEO, Bob Reina.
The timing couldn't be better for the people of Malaysia.  QuiAri is on the verge of releasing a breakthrough anti-aging gel supplement called Prime.  
"A selected few Promoters were allowed to sample Prime ahead of our release and they absolutely loved it.

For new Promoters in Malaysia and all over the world, this is a once-in-a-lifetime opportunity to launch a brand-new, proprietary product in over 100 countries and get paid commissions every 5 minutes around the world,"
said Bob Reina.          
While the highly anticipated release of Prime is attracting Promoters to QuiAri, the company has a very generous Compensation Plan, proprietary products that include the world's new #1 superfruit, Maqui Berry, and top industry leaders with proven track records for success.                 
"Word has spread throughout Malaysia that QuiAri is coming. Our leaders are getting flooded with calls from people that can't wait to join and be part of the new #1.

One thing is for sure – people are excited, and we are moving right in with a HUGE wave of momentum. So…on behalf of everyone at Corporate, I'd like to be the first to officially say, "Selaamat datang ke QuiAri Malaysia…or, in other words, Welcome to QuiAri,"
stated QuiAri Founder & CEO, Bob Reina.
To learn more about QuiAri, their products, and the opportunity to become a Promoter, visit https://quiari.com/en, or follow them on social media @QuiAriOfficial.
About QuiAri
QuiAri is the #1 health and weight loss movement in the world today. Featuring exclusive, breakthrough products (QuiAri Shake and QuiAri Energy) featuring the world's new #1 superfruit, the Maqui berry, people everywhere are losing weight, boosting their energy levels, and improving their health. What started as an idea has now become a worldwide phenomenon, gaining a passionate following in over 200 countries. But that's not all! We boast an exciting opportunity to promote QuiAri products and earn commissions within 5 minutes after each sale through industry-first, state-of-the-art payment technology. Combining unrivaled products with the fastest payout, the fastest cycling binary, and one of the highest-paying compensation plans in the industry, there's no doubt QuiAri is helping people live healthier, happier lives. To learn more, please visit quiari.com. 
These statements have not been evaluated by the Food and Drug Administration. These products are not intended to diagnose, treat, cure, or prevent any disease.
Income Disclosure Statement
Please note the QuiAri business opportunity offers unlimited income potential. However, QuiAri makes no guarantee of financial success. Success with QuiAri results only from successful sales efforts, which require hard work, diligence, skill, persistence.
Recommended Distributors QuiAri