APLGO Brainstorm Event In Colombia
May 1, 2023
By Team Business For Home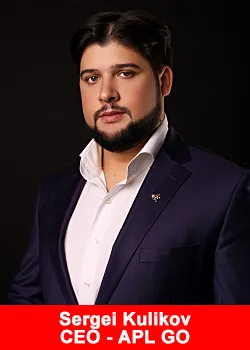 APLGO just wrapped up its first-ever BRAINSTORM, and it was incredible. Corporates and Top Leaders from all around the world came together in Cartagena, Colombia to learn, to share and to network. They exchanged ideas, experiences, and best practices, all in the name of enhancing the already-impressive APLGO business further.
APLGO Company's management always prioritizes the interests of its Associates, and this principle guided the BRAINSTORM event.
All the Associates' feedback, ideas, and recommendations will be carefully analyzed, and any improvements that can enhance the business of the company's Associates will be implemented.
During the four days, BRAINSTORM participants discussed finance, business strategies, company structure, product delivery, and Company's corporates participated in a rigorous managerial training. Attendees also listened to speeches from industry superstars, making the event a powerful learning experience.
The company's Founder and President, Sergey Kulikov, gave out many gifts during the BRAINSTORM event, including merchandise, the new PFT product, BEAUTY watches, and a promotion for all APLGO travel enthusiasts.
Of course, the event wasn't all business, and there were plenty of exciting activities and entertainment for participants. A party in the best Colombian traditions was organized for employees, while the leaders were treated to an exquisite and atmospheric evening, transported to the venue in horse-drawn carriages.
The Brainstorm event was such a huge success that it will undoubtedly become a tradition in the Company's calendar. The value of such an event cannot be overstated, and it will undoubtedly benefit APLGO's Associates for years to come.
About APLGO
APLGO is an 11 year old company which began expansion in the US, LatAm, Philippines and South Korea in the last two years. APLGO features a category creator product "Rapid DNA Lozenges" and a compensation plan that pays out 63% on the dollar.
Our experienced corporate team is dedicated to the success of our associates led owner Sergei Kulikov, a successful, international network marketing leader. Our head office consists of six departments and sixteen divisions, with 14 global warehouses and more to come. We consult with top-tier providers to ensure every aspect of the business is solid and scalable. For more information please visit us.aplgo.com
Recommended Distributors APLGO